A new Reasonably Clever Adventure
on
May 13, 2013
at
7:47 am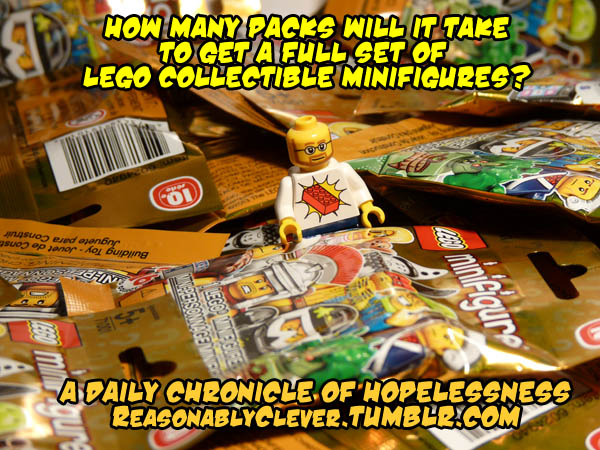 I've been collecting LEGO's line of "Collectible Minifigures" since series one. They're up to series ten now. And, being an OCD competitionist when it comes to these things, I have to complete my collection.
There are a few problems with Series 10 – not the least of which is LEGO's decision to include an ultra-rare chase figure, "Mr. Gold", who is limited to a 5,000 figure worldwide release.
There is also the normal problem that the sixteen readily-available figures are randomly packed in sealed baggies.
How many packs will it take for me to complete even the basic set?
Well, let's find out together.
Every day I'll post the results of one more packet of LEGO Collectible Series 10 mayhem at ReasonablyClever.Tumblr.com. I'll document with photos and commentary, sharing my thoughts about the figures as they're revealed.
By day 30 I'll also likely be spending a lot of time bitching about how much money I've spent trying to complete this set.
It's bound to be an adventure, anyway. Hope to see you there!