2nd Annual Micropolis Building Challenge
It was just a normal day…until Professor Millennium's Amazing Time Twister went haywire and started spewing the Sands of Time all over Micropolis! Now, instead of a busy CITY environment, entire blocks have been swept through time! Cliff top castles stand across the street from Western Saloons! Space Ports vie for attention with the Bus Stop! Viking longships hunt for a slip in the Micropolis waterfront! It's mass chaos….and YOU can help build it!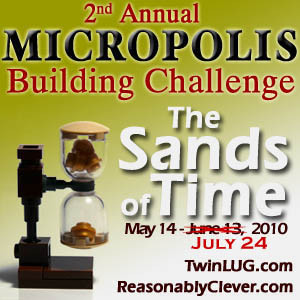 Yes, it's time for the 2nd Annual Micropolis Building Challenge brought to you by TwinLUG and Reasonably Clever!
This year the theme is "The Sands of Time." Your task is to build a part of the city of Micropolis using the newly updated 1.1 standard. The twist is that you don't have to build in the standard "CITY" theme – thanks to the Time Twister you can build in any theme you want…provided you still follow the Micropolis Standard.  (Yes, this means your Western Dude Ranch needs to have a modern road and sidewalk. Deal with it.)
The Rules:
Models MUST conform to the Micropolis 1.1 Standard or they will be disqualified.
MODELS MUST CONFORM TO THE MICROPOLIS 1.1 STANDARD OR THEY WILL BE DISQUALIFIED.
Virtual models are not allowed for this contest.
Models posted on-line prior to 5/14/2010 are not eligible for this contest.
International entries are welcome
All entries will be judged from a single pool. You may only enter ONE model per person.
CITY-themed entries are encouraged, but there are also three special building sub-themes that can win prizes this year.

Twisted Time – Modules themed from the past or future (Space, Western, Caveman, etc.).
1.1 Showoff – Modules built using the new Bluff and/or Waterfront portions of the 1.1 standard.
Time Twister Explosion  – Modules showing the Time Twister disaster as it happens

It is possible for a single model to win mulitple prizes! For example, the Best in Show might also earn the Sands of Time theme award.
MODELS MUST CONFORM TO THE MICROPOLIS 1.1 STANDARD OR THEY WILL BE DISQUALIFIED.
To Enter:
Your Name/Alias as you'd like it to appear on the entry grid

A name/title for your entry

A single photo (no larger than 400×400 pixels) of your model. Remember: If the judges can't make out your model, you won't score very high, so take a GOOD picture.

Optional: A text description of your model

Optional: A link to more photos of your model

Entries that do not follow the above guidelines may be disqualified, depending on how cranky Chris is feeling that day.

Entries must be received by

11:59 PM Eastern Standard Time on JULY 24, 2010
Judgment and Scoring:
Judging of the on-line entries will take place the week of July 25th
The Judges will include:
Judges will decide on the winners by committee.
Winners will be announcedthe week of August 1st
Prizes:
To match the Sands of Time theme, all of our prizes are from the
LEGO Prince of Persia: Sands of  Time
collection!

What are you still reading for? Go build something!
Want to help promote this contest? Here's a couple of handy banner images!