---
Episode Seventy One (Bonus 2): ...Just Kidding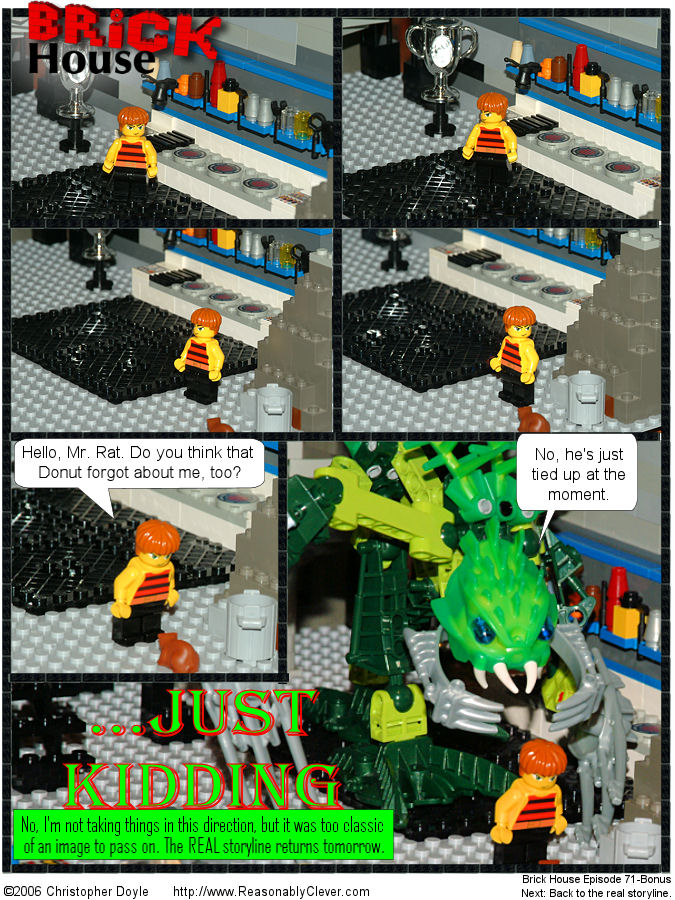 This strip ran on December 26, 2006 - it follows the Christmas Bonus Strip 71a in the flow of things.
The caption on the beast changed a couple of times - I think I probably should have gone with my first thought which was
"I wanted to change into something more comfortable."
The toy is from the Bionicle LEGO line - it had just hit the shelves at the local Toys-R-Us the day before Christmas, and I just happened to be out shopping with in-laws Christmas Eve. Go figure. Anyway, I thought it looked pretty nifty, so I dropped it into the strip.
This also gave me a bit more breathing room for the week as I only had to cobble together the last panel.
<< First Bonus Strip < Previous Bonus | ARCHIVE | Next Bonus > Latest Bonus Strip >>
Want to read BRiCK House on your newsreader? Try the BRiCK House RSS feed!


Got a LiveJournal? Add the comic to your

Friendslist!

Add BRiCK House to your

Del.icio.us Links
---
---
Portions of this site make extensive use of Macromedia Flash.
If you're not seeing anything above the line you may need the free Flash Player. Get it here.

This site displayed with 100% post-consumer recycled electrons.

LEGO® is a trademark of the LEGO Group, which does not sponsor, authorize or endorse this web site.
Please be sure to visit the REAL LEGO homepage at http://www.LEGO.com.

All Content ©1986-2009-through the End of Time by Christopher Doyle
|
| Read updates on your

Livejournal Friendslist