Bricktionary Entry: Father
I created this Vig as a birthday present for my Dad.
This year some of my closest friends had lost loved ones, and that of course prompted thoughts of "limited time" and "don't wait until they're gone". So instead of finding just another DVD set I thought he'd enjoy, I built this little tribute to the bond we share. If nothing else, I hoped it was a step up from the "Macaroni Faces on Paper Plates" he got while I was in grade school.
I wanted a simple image that had a quiet, contemplative feel to it. That's a Mini-Mized version of him standing, the Mini-Me in front is pretty much how I look these days (although the glasses are missing.) This isn't based on any specific moment in our lives, but the whole "looking out over the water in the same direction" thing does resonate with me.
I thought of doing something with a more "junior" me - maybe something from that Macaroni-Face era - but I also wanted to stress that he's just as important to me now as he was back then.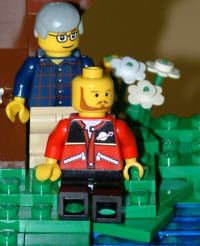 I love you, Dad. Thanks for being a part of my life.
You can click on the image at left for a very large view, or check out the alternate angles below.
Alternate Angles (Click to view)