For holidays of all faiths.
on
December 2, 2013
at
1:05 am
The title of this strip is from a MST3k song/skit – "Merry Christmas – if that's OK"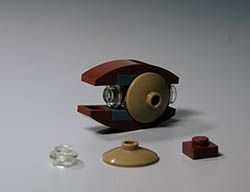 Today's item follows in the usual Star Wars LEGO Advent tradition of "mini-ships." Or, to put it another way "tiny collections of parts that almost make something recognizable for less than $0.30 worth of parts in a $40 set."
But I'm not bitter. It's way too early in the calendar to be bitter.
So anyway. Dooku's Solar Sailer. I guess it's not a bad rendition considering the part count. And LEGO did include a few extras in case you really need another 1×1 clear round brick.