Ground in Dirt
on
December 3, 2013
at
1:48 am
Another day, another mini-set that I have to go the internet to figure out what it is. I can understand the allure of using characters from the Clone Wars TV show, but it'd be nice to see some core characters show up at some point.
In other news, I think I fixed the problem that was putting a thumbnail sized strip into the RSS feed.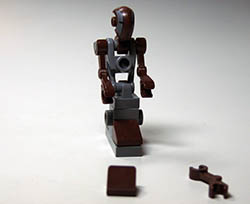 As to today's item – meh. This a apparently the pilot droid from yesterday's mini-ship. Doesn't look much like its movie counterpart to me, but I guess it's close enough.
Talk about a low playability mini-figure, though. At least they didn't put him on the box as a featured element/character. It certainly lacks that "wow" appeal.
Extra bits are a spare arm and a spare 1×1 brown cheese wedge.