Today's Prize:
Dual Axe Wielding (Fire) Fighter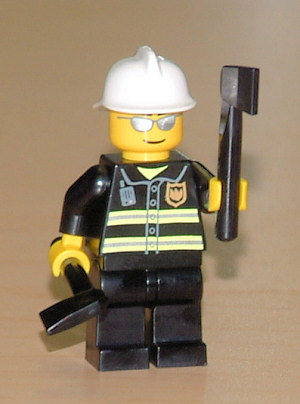 As this year's Advent Calendar is "CITY" themed, it was no shocker to find this dapper fellow behind Door Number One.
From his mirror shades to the reflective yellow stripes on his shirt, this mini-figure practically screams "Safety first!" And then he'll stave your skull in with one of his axes. He's twitchy like that.

Of possible note is that he comes with TWO axes, despite only one being shown on the inside of his door. LEGO often puts in a few extra parts with their kits, and it looks like this year will be no exception.

| | |
| --- | --- |
| Total Parts in Set: | 203 |
| Parts in Today's Door: | 6 |
| Parts to Go: | 197 |