Today's Prize
M.C. LeetSpeak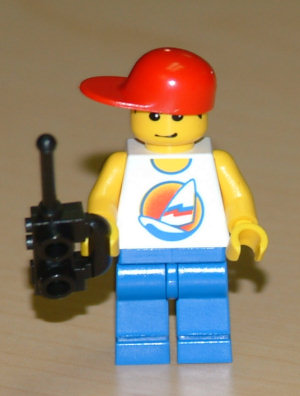 Thank goodness we're done with the "Mechanic" three-day theme. Today, as expected, we have another mini-figure to add to our growing army. He's not very frightening, though - no armor, no weapons, not even a drill press. No, today we get this guy in a sleeveless- tee.
He's not very "Christmas-y" either. Maybe Christmas in Florida - he looks more ready for a day on the beach than a day making Snowmen.
Well, at least he comes with a radio/walkie-talkie so he can communicate with our other heroes.
Speaking of whom....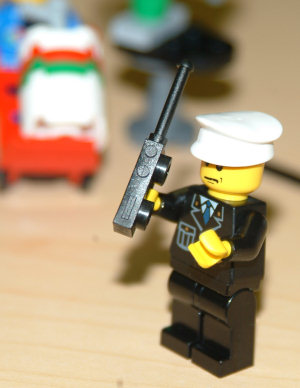 Officer Grumpypants: Hello! Hello! Can anyone hear me?
MC LeetSpeak: H3y, Dud3! W4zzup?
Officer Grumpypants: What? HELLO?
MC LeetSpeak: 4LL y0U|2 b4se 4R3 B3L0n6 t0 US!
Officer Grumpypants: Damn. Nothing but static.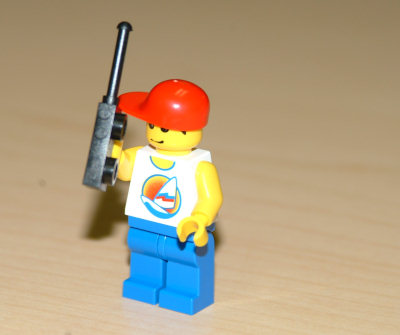 MC LeetSpeak: (thinking) Who was that guy?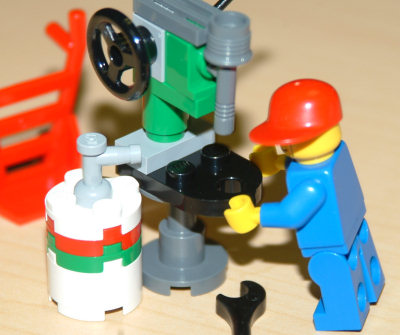 Oil: I *sob*.....I can't believe that Grumpypants doesn't have time for me. For us. Oh, why, why must I always fall for men in uniform? At least I have you, my beloved mail-sendaway. I'm sure we can find a way to make him notice me.
Drill Press : *not alive, says nothing*
| | |
| --- | --- |
| Total Parts in Set: | 203 |
| Parts in Today's Door: | 5 |
| Parts to Go: | 22 |