Today's Prize:
The Conductor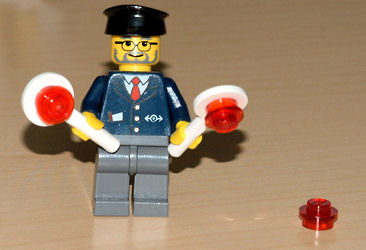 Day Ten - time for yet another "City" Theme to make its debut. This time the lucky sub-theme is "Trains". Our jolly Conductor comes with two warning paddles and an extra red dot. How grand.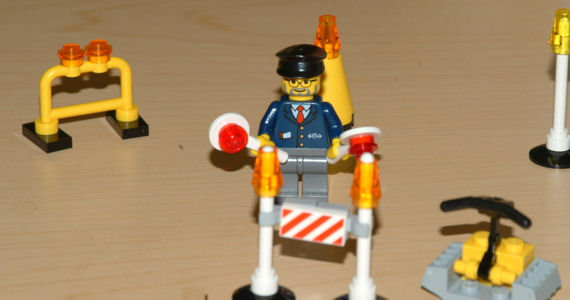 As the sharp whine of the Temporal Transport Grid fades away, yet another traveler comes into view.
The Conductor: Hello? What's all this then? Who's been mucking about with the Advent Stream?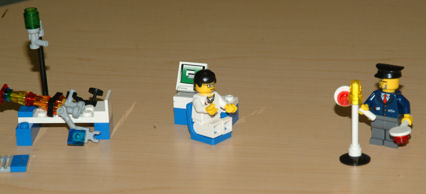 Dr. Sloehand: You're with the TSA, aren't you?
The Conductor: That's right. Temporal Security Agency sent me out to this date to check on why nothing holiday-themed has shown up in this year's LEGO Advent Stream so far.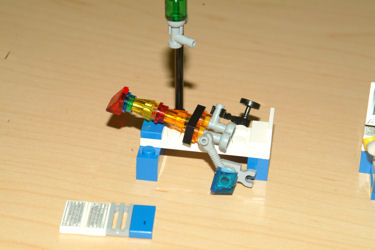 Handy: With all these lights, I'm starting to look a lot like a Christmas tree, does that count as "holiday themed"?
The Conductor: I'm afraid not, sir. Truth be told, you look more like some sort of Holiday Nightmare. Too bad there isn't a Halloween countdown you could gate crash.
Handy: You know, I don't even know who you are, and already I want to remove your lungs with a spork.
The Conductor: I get that a lot.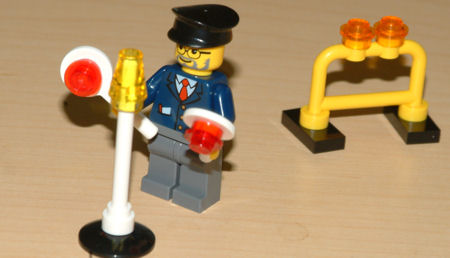 The Conductor: Ah! Here's a problem, right here! Someone has gone and changed your Temporal Lenses, they have! No wonder you're not getting anything festive. I'll run a few tests, see if we can't get this straightened out...

| | |
| --- | --- |
| Total Parts in Set: | 257 |
| Parts in Today's Door: | 9 |
| Parts to Go: | 149 |