Today's Prize:
Police Barricade, Speed Limit Sign, Blue Dot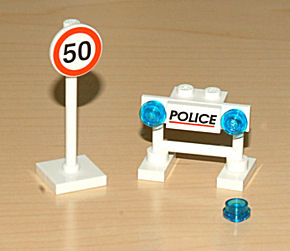 For those of you joining the story late, this door was accidentally revealed back on day 7. I'd suggest you go back and re-read from the begining if you haven't already - otherwise you risk being as lost as the author of this little story.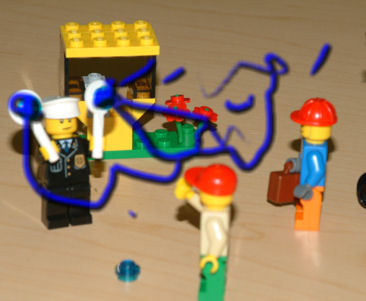 Grumpypants: Jack, before I can take you back, I think we'd better be ready for a fight, with our weapons at the ready. I'm going to deputize you as a "Junior Advent Agent" for this year - think you can handle the responsibility?
Jack: Well, I guess so. I do want to help things return to a holiday theme.
Grumpypants: That's all any of us want. These twisted "City" themes have to be a mistake. Last year, we had crime galore in our Advent Stream - part of the reason I joined the Temporal Security Agency. Try and keep crap like this to a minimum.
The Janitor: Look, Sergeant Exposition, can we just get on with this?
Grumpypants: I've never liked you. Just a moment....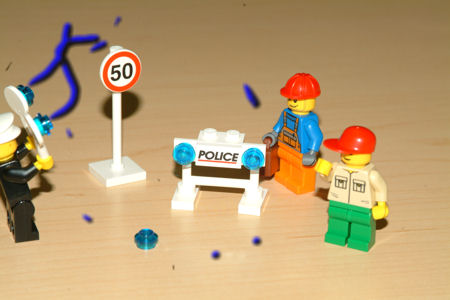 Sign-Lass: All right! Active Duty!
Barricade-Boy: It wasn't just a fluke! We are in this year's Advent Stream!
Grumpypants: Jack, let me introduce you to Sign-Lass and Barricade-Boy. They're members of the Legion of Safety Devices.
Jack: Pleased to meet'cha.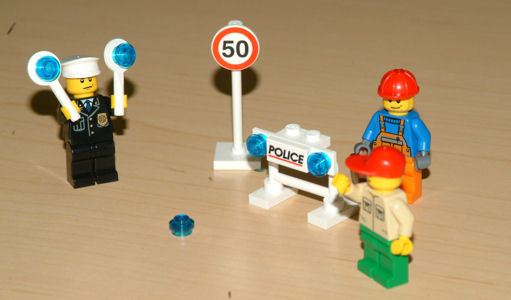 Barricade-Boy: Hey! There's Special Agent Dot! But...wasn't Duplicate-Dot with us?
Grumpypants: All part of my plan, Barricade-Boy. All part of my plan. I sent your team through back on Day 7 so that I could have Duplicate-Dot on the scene. She's been keeping me up to date all this time.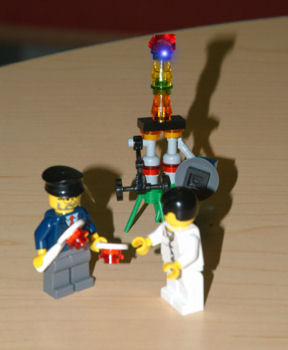 Dr. Sloehand: Uh...Handy? Why is that one dot glowing? You getting more stuff from the Advent Stream?
Handy: Nothing to see here. Move along. Move along.
| | |
| --- | --- |
| Total Parts in Set: | 257 |
| Parts in Today's Door: | 10 |
| Parts to Go: | 49 |