Today's Prize:
Hand Cart, two briefcases, extra axle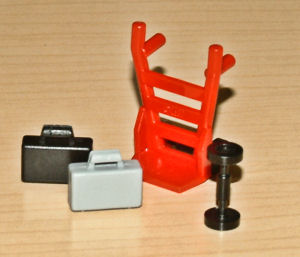 Day 5 -continuing the "Airport" theme from yesterday. This is probably the most boring door so far - some luggage that's been lost and hand cart to move it around on. At least LEGO gave us an extra axle in case the cases are so heavy that they snap the first one. Whee.
Anyway. On with the story.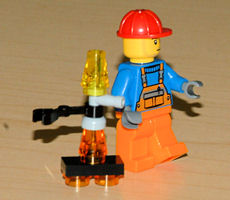 Handy: I think I've been linked to the "temporal extras" in some strange way. I bet when we get back we'll find that we've missed another batch of stuff entering our time - and that these new parts will be mirrored in the new arrival somehow.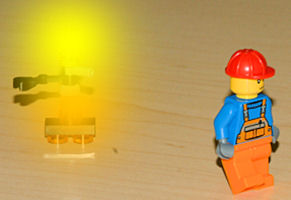 Jack: Sounds like a good theory... these new "shipments" seem to be arriving pretty regularly. We'd best hurry - another one is due any moment now....
Handy: OUCH! OWIE!!!!!!! Oh, it hurts...why does it have to hurt....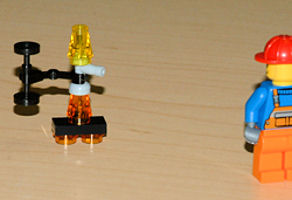 Handy: Oh. Joy. A barbell. Now my one arm can get all buff.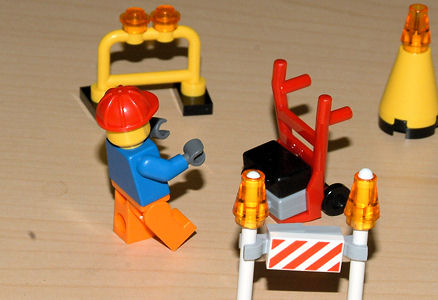 Jack: Hey! Look! Here's more stuff! Only looks like one batch, though - unless the Temporal Elves like to stack things neatly...
Handy: We've obviously missed something - my first change had parts that aren't here. And ...aren't these cones in a different layout then when we left?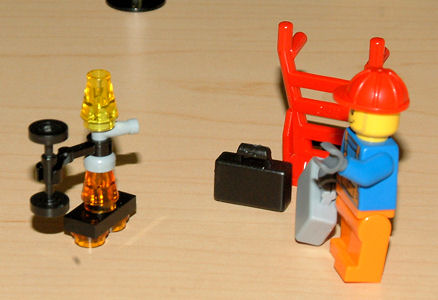 Jack: Heck if I know. I've been drinking.
| | |
| --- | --- |
| Total Parts in Set: | 257 |
| Parts in Today's Door: | 5 |
| Parts to Go: | 205 |