---
Star Wars BLING
Model:

Snowspeeder Type-R (Snowspeed-R)

Stock:

Set 7130

Upgraded
Features:

Rear spoiler, Revised controls, much bigger engines, side-wing spoilers, scorpion graphics, auxiliary turbocharger.
This shot from the rear of the Snowspeed-R gives a nice glow off the chrome highlights of the wing-mounted sensory array, exhaust system, and heat-sink on the engines. Designed for atmospheric flight only, the Speed-R uses micro-flaps on the rear spoiler to help direct thrust from the dual FreezyPop turbines. Each engine has an independent speed control, allowing the craft tighter handling than the air-brake reliant stock model.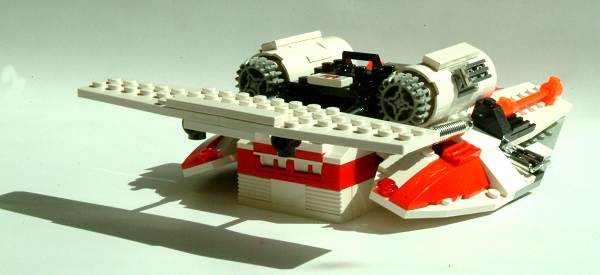 The traditional tow cable gun was traded for a hidden rear-attack ion charge system. The support struts for the rear spoiler are actually reinforced cannons.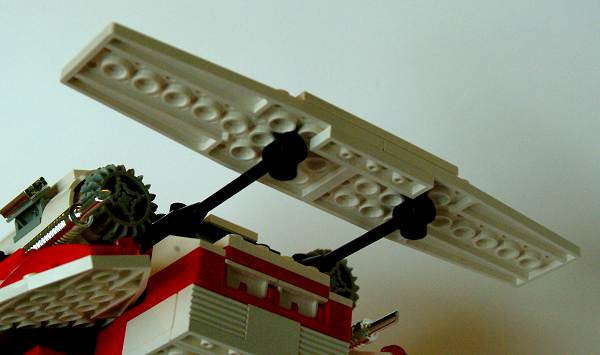 When asked what the Snowspeed-R could do to an AT-AT, the response was "Are you nuts? You think I'd risk a ship like this against an imperial walker? The chrome on the sensors cost me six month's pay!"
Next: A look at the control surfaces and TURBO
---
---
Portions of this site make extensive use of Macromedia Flash.
If you're not seeing anything above the line you may need the free Flash Player. Get it here.

This site displayed with 100% post-consumer recycled electrons.

LEGO® is a trademark of the LEGO Group, which does not sponsor, authorize or endorse this web site.
Please be sure to visit the REAL LEGO homepage at http://www.LEGO.com.

All Content ©1986-2009-through the End of Time by Christopher Doyle
|
| Read updates on your

Livejournal Friendslist