---
Star Wars BLING
Model:

Snowspeeder Type-R (Snowspeed-R)

Stock:

Set 7130

Upgraded
Features:

Rear spoiler, Revised controls, much bigger engines, side-wing spoilers, scorpion graphics, auxiliary turbocharger.
When we first meet the Snow Speeder it's already undergoing some modifications; they're being "adapted for the cold" of Hoth. So obviously "stock" on this particular model is a questionable state. Still, you have to start somewhere, so we'll treat Set 7130 as "Factory".
All in all, a very functional craft. Compact. Heavily armed. Not the best in terms of speed or maneuverability, though. But military efficiency doesn't spell "fun" or "sporty".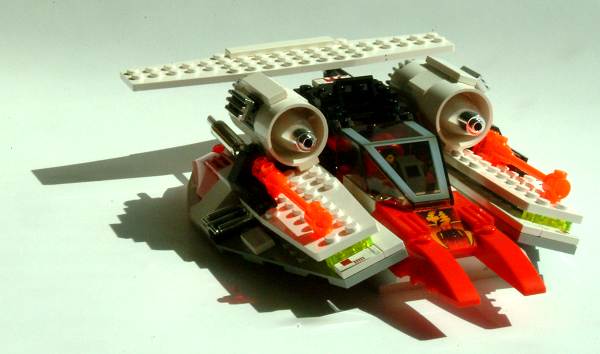 The R-Type Snow Speeder (the Snowspeed-R) adds the chrome, detailing, and turbro-charge that were missing.

The most obvious additions are the rear spoiler and the engine enhancements. What might escape a first glance are the custom "Scorpion" hood kit, chromed exhaust and sensor arrays, and the fact that the side aerofoils are actually dual-layered, creating a unique "side spoiler".
---
---
Portions of this site make extensive use of Macromedia Flash.
If you're not seeing anything above the line you may need the free Flash Player. Get it here.

This site displayed with 100% post-consumer recycled electrons.

LEGO® is a trademark of the LEGO Group, which does not sponsor, authorize or endorse this web site.
Please be sure to visit the REAL LEGO homepage at http://www.LEGO.com.

All Content ©1986-2009-through the End of Time by Christopher Doyle
|
| Read updates on your

Livejournal Friendslist