---
Star Wars BLING
Model:

Bling Speeder

Stock:

Set 7110

Upgraded
Features:

Enhanced Exhaust, Chrome vents, Air Scoop, Cheap Date
The real question for any BLING enthusiast is "What happened to Luke's Landspeeder after he sold it at Mos Eisley?"
Well, we were lucky enough to track the vehicle down, and see what its new owner had done to it.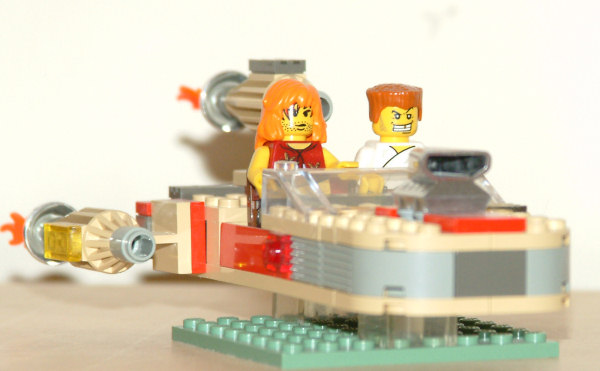 Lunk Blingwalker (pictured, right) was just returning from having a gold cap applied to his front tooth when we caught up with him. His "date" Queen Dragnasty, left early on to go smoke and to visit the little boy's room.
The majority of this classic vehicle was left in stock form, with most of the additions being snap-on or cosmetic in nature. The exhausts had all been tweaked with chromed guards and a glass-pack at the front, giving the normal "whine" of the landspeeder a distinctly throaty rumble.

The highly reactive chrome often catches fire, giving a high-profile exhaust to this otherwise environmentally friendly vehicle.
The new neon lights on the engines and sides add a new excitement to after-dark cruising.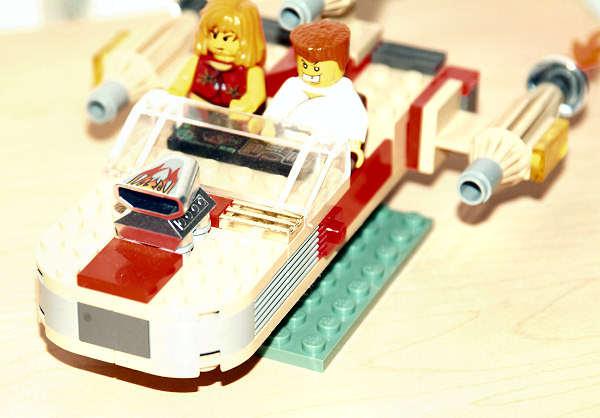 This air scoop is part of the improved air conditioner unit. Note that the improved Multi-disc CD changer unit requires it's own control surface in the cockpit. Also note the racing stripe and shine from the freshly-chromed grill on the pilot's side.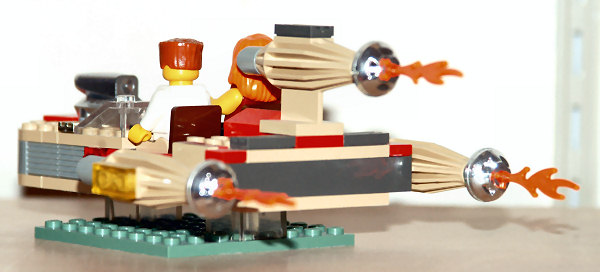 The end.
---
---
Portions of this site make extensive use of Macromedia Flash.
If you're not seeing anything above the line you may need the free Flash Player. Get it here.

This site displayed with 100% post-consumer recycled electrons.

LEGO® is a trademark of the LEGO Group, which does not sponsor, authorize or endorse this web site.
Please be sure to visit the REAL LEGO homepage at http://www.LEGO.com.

All Content ©1986-2009-through the End of Time by Christopher Doyle
|
| Read updates on your

Livejournal Friendslist