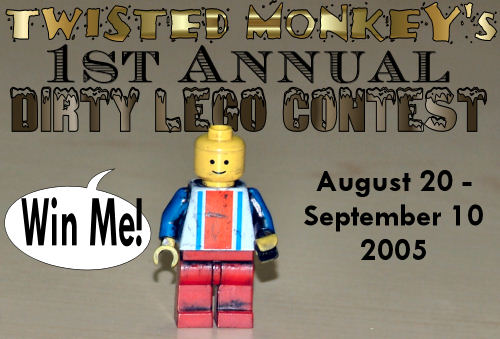 Just about every serious LEGO builder has a few dirty secrets in their collection. Maybe it's just some white bricks that age has turned into a dull yellow. Maybe it's the bricks that your kid brother took a marker to. Maybe they came in a big eBay lot, and you're not sure just what the heck is on them…but the goo won't come off. Even with bleach.
Dirty Bricks.
You hide them in the middle of your creations, hoping no one will ever notice. Well, now it's time to let them see the light of day!
Twisted Monkey's First Annual
Dirty LEGO Contest
You have from August 20th until September 10th 2005 to build whatever you want – so long as it has at least one filthy, dirty, disgusting brick visible.
Take a snapshot or two of your creation and post it to JLug.net's Pool Hall forum.(1) Please include "Dirty LEGO Contest" as part of the title.
Contest entries can not have been posted on-line prior to August 20th.
ENTER AS OFTEN AS YOU'D LIKE!
The more often you play, the better chance you have of winning!!
Entries will be judged (by the Twisted Monkey and his wife) on the following criteria:
| | |
| --- | --- |
| 1-10 points | Use of Dirty LEGO bricks |
| 1-10 points | How Dirty is the theme of your creation |
| 1-20 points | Overall style, originality, and panache |
And check out these swanky prizes!
Grand Prize:
"Filthy Frank" Mini-figure from the Contest Banner! Also, $10 (US) gift certificate to LEGO shop-at-home and a "suitable for framing" certificate.
First Place:
1 Bag of miscellaneous dirty bricks. You know you want them.
Second Place:
YOU GET NOTHING. Good DAY, sir!
Third Place:
1 very dirty brick and $5 at LEGO shop-at-home
So go…get….DIRTY!
If you have questions - feel free to contact me right here..
---
(1) Or email it to me and I'll host it somewhere.
In case you were wondering: This contest is in not affiliated, sponsored nor endorsed by The JLUG.