Entry One: Broken House
By: josephelopod
Use of Dirty (Unclean) Bricks
(out of 30)

Style and Panache
(Out of 30)

Humor
(Out of 30)

Pimposity
(Out of 10)

TOTAL POINTS

30
15
15
0
60
Jen's Comments:
The melted minifig is a nice touch - excellent use of DIRTY, FILTHY, NASTY bricks.
Entry Description:
cross posting at JLug and here, but I believe this entry is for the RC side of the contest as it's focus is primarily in the celebration of the filthy brick itself.

my entry for DB06 is another addition to my burgeoning shanty town, simply called 'broken house'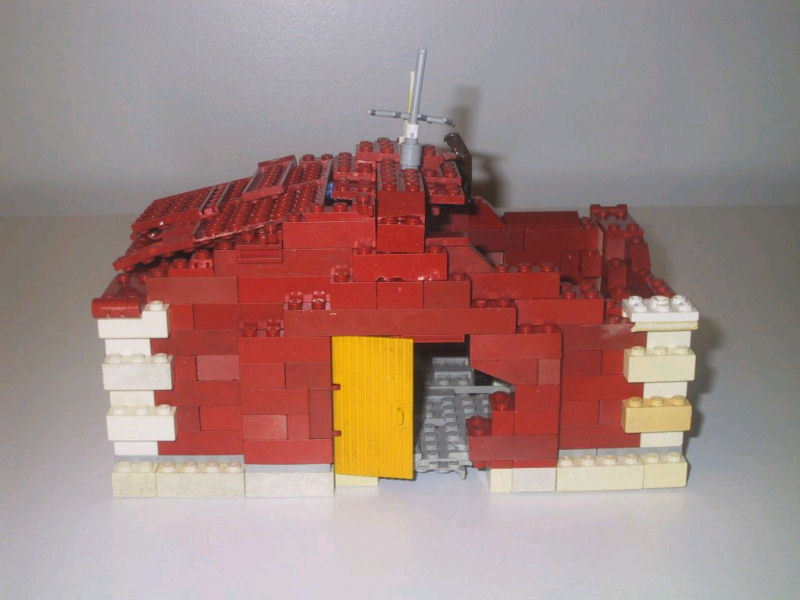 full bs gallery

it's a ramshackle affair made entirely of cast-off bricks, a fine array of stained, scuffed, broken, bent, burnt and chewed, and despite a drafty roof it shelters several of the more despondant shanty town populace. there is even some broken schleim action, there is a broken ceiling fan that is attached with broken ladders and a broken sign post in the foot slots. this structure put a good dent in my broken red collection and the impoverished wobbly citizens are grateful for this contest inspiring me to create further subsidized housing.