---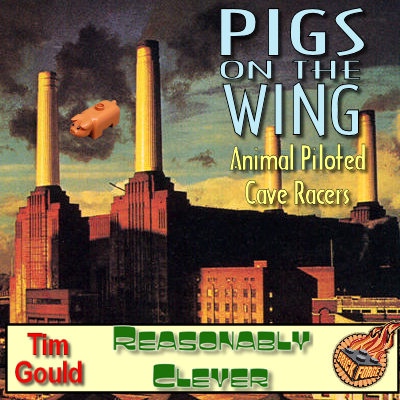 -- Rules Clarifications Posted on 5/21/08 --
-- Grids Updated on 6/30/08 --
-- PRIZES ANNOUNCED starting 7/22/08 --
DEADLINE FOR SUBMISSIONS HAS PAST. THIS CONTEST IS NOW CLOSED.

Since April of 2008, the LEGO building community has been gripped by the concept of Cave Racers. Small, fast vehicles that add excitement to the Star Wars "Pod Racer" concept by getting rid of the pod and hanging the driver directly off of the back of the engine.
The innovator behind the theme, Tim "Gambort" Gould has teamed up with Reasonably Clever to develop a sub-theme of Cave Racers where LEGO Animals are the pilots. We call 'em "Pigs on the Wing" (or PoW) after the classic Pink Floyd tracks. (Yes, kids, there was quality music prior to Hannah Montana. Trust us on this.)
The PoW starts with the Classic Cave Racer design elements. (If you don't know what those are, check out this page.) Then, a few changes and modifications are made.
Here are the Official Pigs on the Wing Design Elements and Rules:
The engine must contain two trans-orange 1x1 rounds (for power ) (Part 4073 , trans-neon-orange is fine)
Between the engine and the pilot there must be design elements to create the "ribbed for pleasure" effect (again, see this page)

On a standard scale racer, this should be built using two 1x1 slopes (Part 50746). Other elements may be used with the strong potential of a point reduction.

At the front of the craft you must have two "Hover Thingies"

A Spade/Shovel - LEGO part 3837 (this is required , and a change from the standard cave racer design's wrench)
A Spear (actual part is flexible so long as it's flattish and long. But you really should just use a spear.)

The pilot must be a LEGO animal

Brickforge and other custom built animals are allowed
Megablok and competing major brands, however, are not allowed.
When wondering if a particular item counts as a LEGO animal, ask yourself "Does this figure look like a human wearing a costume"? If the answer is "yes", then odds are you're going to lose some points. If the item looks like the animal as you'd see it at the zoo, you're fine.
Monkeys are allowed, but be warned: The judges consider their use "too easy" so your build will have to be pretty spectacular to impress them! (Monkeys must be mounted as a "traditional" cave racer - they hang from a pair of handlebars by their front limbs.)

The pilot must hang from the rear of the craft

In the case of animals with only 1 connection point on the bottom (frogs, owls, small cats, etc.) if they are mounted, they must be mounted on a 3900 Paddle/Signal Holder
In the case of larger animals, the animal cannot be attached by the legs. How they DO hang on is left as an exercise for the builder. (The octopus figure is excepted from this rule). See this entry for an example of a classy way to suspend a larger animal.
The challenge here is to build your own PoW - and enter it into one of three categories:
Class One:

Basic PoW

Build a PoW following the design requirements stated above

Class Two:

DUPLO PoW

A slightly tougher challenge, build a PoW with a DULPO animal as the pilot - and using as much DUPLO in the racer construction as possible.

Class Three:

PoW Diorama

Build a diorama or playset featuring one or more PoWs.
General Rules and How To Enter:
Discussion of rules can be found in these blog posts.
Contest runs from May 16th, 2008 until 3:33am on June 30, 2008 (Eastern Standard Time)
Entries must be emailed to Chris Doyle at bat_hero@hotmail.com
Entry emails must contain the following:

Name (or Alias) to display as builder
A single 400x400 pixel (or smaller) photo for use in the entry grid - it should show the full vehicle.
A name for your model
Description of your model (optional)
Link to additional photos (for example a Brickshelf Folder or Flikr account, also optional but recommended)

International entries are welcome, and you can enter as many times as you like. However, each builder can only win ONE prize package.
In the case of a single builder winning multiple categories, he or she will have pick of the prizes won, then the remaining prizes will be distributed to the second place finishers.
Models published on-line prior to May 16th are ineligible for this contest.
Virtual Models are allowed.
Scoring and Prizes:
Each model will be ranked on three criteria:

Adherence to Rules (40 points)
Creativity (30 points)
Style (30 points)

Each model will be judged by Tim Gould, Chris Doyle, RedBean, and Armothe. Scores will be averaged, and the top placer in each category will win the prize pack described below.
Class One Prize: Brickforge Pink Pig and $10 gift card, LEGO set 8158: Speed Racer & Snake Oiler
Class Two Prize: Brickforge White Pig and $10 gift card, LEGO set 8159: Racer X & Taejo Togokhan
Class Three Prize: Brickforge Black Pig and $10 gift card, LEGO set 8161: Grand Prix Race
There are three special prizes available that do not apply to the "one win per person" rule.

BrickForge Pick:

This prize will be awarded to the model that Brickforge likes the most. The winner will receive a Super-Rare Dark Tan Cow and $20 gift card to Brickforge!
Reasonably Clever Monkey Award: The model that Chris likes the most will receive LEGO set 4916: Mini-Animals

Tim's Pick:

The model Tim feels features the best animal integration will receive a custom Mystery Racer designed by Tim! (Design will be revealed when prizes are awarded)
---
---
Portions of this site make extensive use of Macromedia Flash.
If you're not seeing anything above the line you may need the free Flash Player. Get it here.

This site displayed with 100% post-consumer recycled electrons.

LEGO® is a trademark of the LEGO Group, which does not sponsor, authorize or endorse this web site.
Please be sure to visit the REAL LEGO homepage at http://www.LEGO.com.

All Content ©1986-2009-through the End of Time by Christopher Doyle
|
| Read updates on your

Livejournal Friendslist