---
Pimp My Mech: Contest Entry #12: 7708-Pimped
Place

Faithfulness to Original Model
(50 Points)


Pimposity
(30 Points)

Theme
(20 Points)

Total Points

Comments from the Judges

6th

40.67

20.83

13.67

75.17

LexPendragon: Love The Skull

Aiela: I'm liking this one. It might be my favorite so far. Especially the chains, although the skull seemed gratuitous.

Bec76: Love the droid with the blue Devo hat and the flame! But very cluttered, visually

Chris: A good, solid entry. And the Support Droid adds a needed drop of humor to the mix.
By: xziBOT and Space Coast Customs (Thomas F. Kanter)
(Full sized photos at this Brickshelf folder)
This mech has been pimped by the cool and pimpy rapper xziBOT! Since Ryo's hobby is killing those rotten robots, the guys from space coast customs added lots of cool features! Including:
-Better armored legs and back, in case of an attack,
-A more comfortable cockpit, where Ryo can sit and touch the controls,
-An improved communication system, with three antennae,
-A better double gun, which now is larger and has a targeting scope,
-The rockets on the left arm have been relocated and put under the cockpit,
-Which makes place for the enormous robot-killing flamethrower!
-A walkie taklie for Ryo to call the other EXO-FORCERS if the mech happens to be destroyed,
-And a handgun to protect himself against the robots, when he waits for help.
-Also it's gor Bad-ass details, like a black chain and a skull on the flamethrower,
-And chrome exhaust pipes.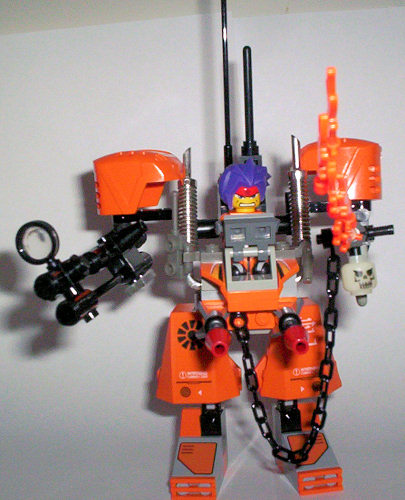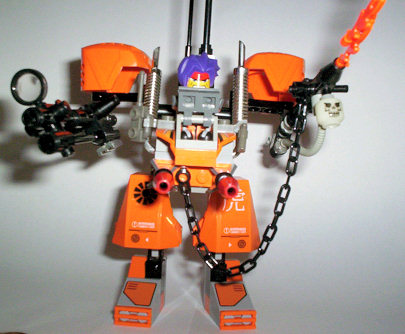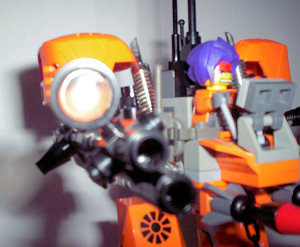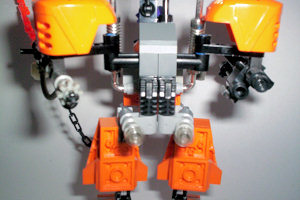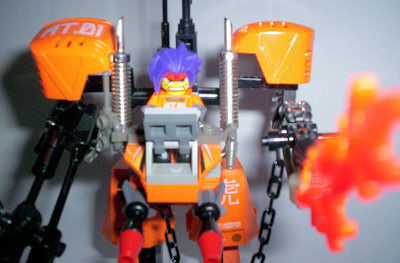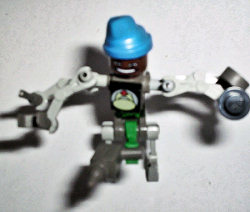 ---
---
Portions of this site make extensive use of Macromedia Flash.
If you're not seeing anything above the line you may need the free Flash Player. Get it here.

This site displayed with 100% post-consumer recycled electrons.

LEGO® is a trademark of the LEGO Group, which does not sponsor, authorize or endorse this web site.
Please be sure to visit the REAL LEGO homepage at http://www.LEGO.com.

All Content ©1986-2009-through the End of Time by Christopher Doyle
|
| Read updates on your

Livejournal Friendslist