---
Pimp My Mech: Contest Entry #16: The Mechette
Place

Faithfulness to Original Model
(50 Points)


Pimposity
(30 Points)

Theme
(20 Points)

Total Points

Comments from the Judges

10th

39.17

15

15.83

70

Bec76:Good idea, but not executed well; not enough detail

Aiela:This was a cute idea. The big orange purse rocks

LexPendragon: Great concept

Chris: Rounding out the top ten! Next time maybe I'll do a "Pimp and Ho" Mech contest...
By: SeaGirl
(Discuss this Mech on Livejournal)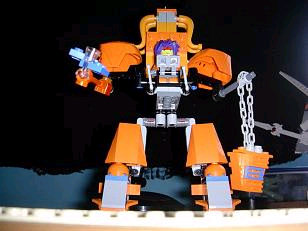 She's fully equipped with all she could need for a night on the town; designer shoes, shoulder pads, a cocktail glass for the shot of Baileys, and the latest in Gucci handbags.
There are also special compartments for storing those small things a woman should never be without, like perfume, tampons and mace.

The Mechette.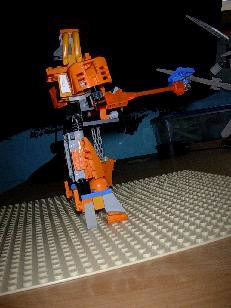 ---
---
Portions of this site make extensive use of Macromedia Flash.
If you're not seeing anything above the line you may need the free Flash Player. Get it here.

This site displayed with 100% post-consumer recycled electrons.

LEGO® is a trademark of the LEGO Group, which does not sponsor, authorize or endorse this web site.
Please be sure to visit the REAL LEGO homepage at http://www.LEGO.com.

All Content ©1986-2009-through the End of Time by Christopher Doyle
|
| Read updates on your

Livejournal Friendslist