---
Pimp My Mech: Contest Entry #3 (Not really entered in the contest, honest.)
Place

Faithfulness to Original Model
(50 Points)


Pimposity
(30 Points)

Theme
(20 Points)

Total Points

Comments from the Judges

n/a

n/a

n/a

n/a

n/a

Bec76: Wicked awesome! And a great part layout, helped me understand the changes

Chris:I still like it, even after seeing the other entries. But then again, I'm a bit biased.
Entry by: Chris of ReasonablyClever.Com (Yeah, I couldn't resist this theme. Not eligible for prizes, of course.)
Notes:
A non-violent re-work of this kit - unless you count bursting someone's eardrums a hostile event. May I present to you my Pimped 7708 -
The Muskrat Love-Machine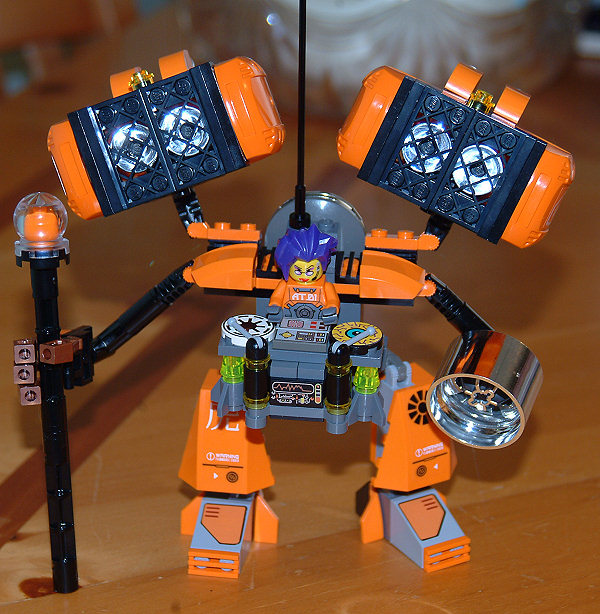 Special feature include:
Dual shoulder-mount AT-01 Speakers
Right arm cannon reworked as a swagger stick
New right arm to hold said swagger stick
Missile launcher on left arm replaced with giant Chrome Rim (For that true Pimped Ride)
Slightly (2 stud) wider stance for increased stability
Bigger stompy-boot feet
Hotter Female Pilot
Mirror-Ball on back
Oh...and did I mention the turntable system???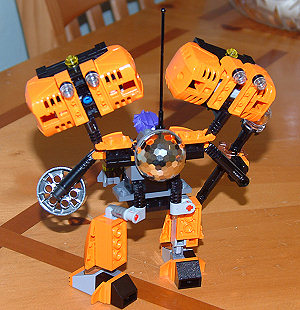 This rear view shows the mirror ball, as well as the enhancements to the legs and feet.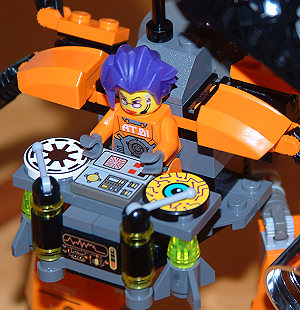 This shot shows off the Mixing Station - ready to take on the robotic baddies of the Exo-Force line and R0x0rz their B0xers.
I used the small orange fender pieces to keep the "shoulder plate" motif from the source model, since the "Real" shoulder plates were incorporated into the shoulder-mounted speakers.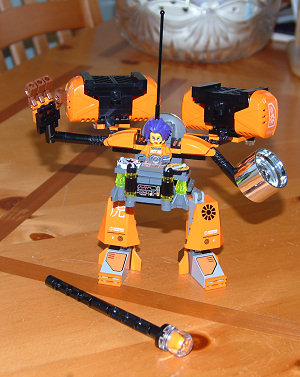 At 2:00am, when the clubs close, this mech is ready to throw up its hand in exasperation! The beat must go on!
(Just showing the range of motion on the speakers and arm)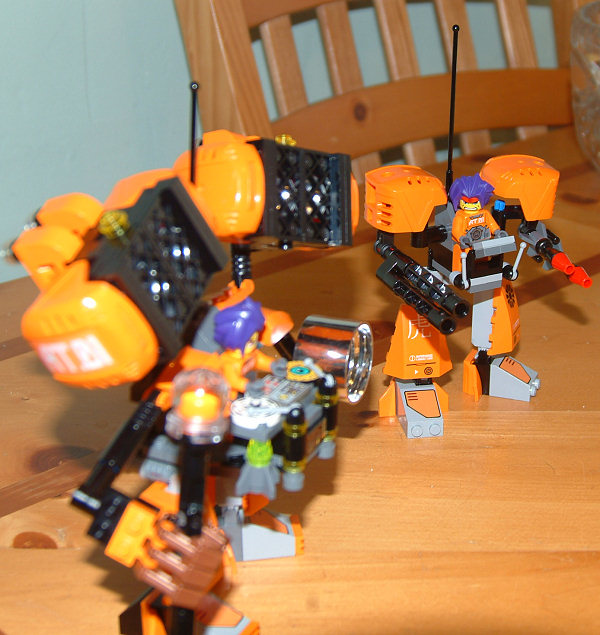 As you can see, the source 7708 set isn't too happy to be upstaged. But you know the way my LEGO adventures go - I'm sure they'll end up dating.
---
---
Portions of this site make extensive use of Macromedia Flash.
If you're not seeing anything above the line you may need the free Flash Player. Get it here.

This site displayed with 100% post-consumer recycled electrons.

LEGO® is a trademark of the LEGO Group, which does not sponsor, authorize or endorse this web site.
Please be sure to visit the REAL LEGO homepage at http://www.LEGO.com.

All Content ©1986-2009-through the End of Time by Christopher Doyle
|
| Read updates on your

Livejournal Friendslist