---
Pimp My Mech: Contest Entry #6: Dragon Mech
Place

Faithfulness to Original Model
(50 Points)


Pimposity
(30 Points)

Theme
(20 Points)

Total Points

Comments from the Judges

9th

35

20.83

14.17

70

Bec76: Clever theme… love the tail… hate the camera effects

Mooninmuppet: Well-done; interesting variation on the theme.

Aiela: The dragon theme was a new one - kind of a tri-mech! I liked the shot of the detail of the tail because I was curious how it was achieved. The flames were pretty cool.

Chris: X-Pod meets Exo-Force. A much better way to go "Medieval" with a mech and still stay within the bounds of the contest. A worthy top-ten entry!
Entry by: Rachel, the bibliobaristascifiminifigeek
My mech is half robot, half dragon. The tail with its attached gun and flaming hot-rod details serves as weight balance for the new front gunnery, sto--I mean borrowed from Boba Fett for the occasion.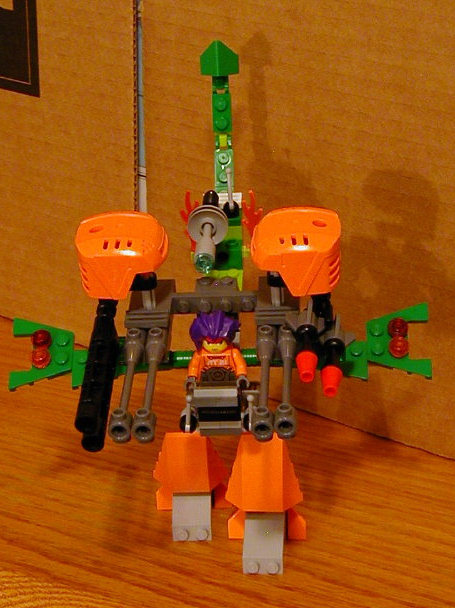 This side photo shows off the tail elements a little better.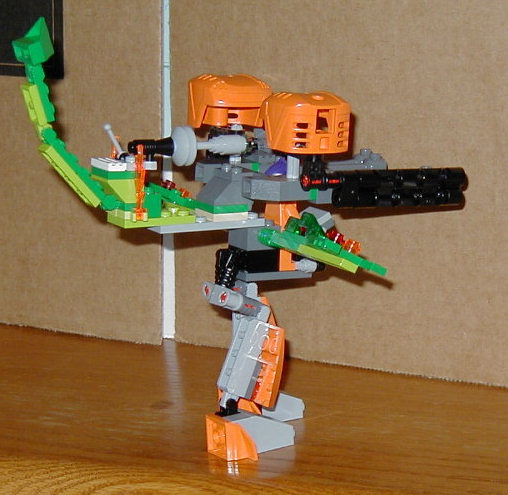 Now there's a face I wouldn't like to try staring down!
---
---
Portions of this site make extensive use of Macromedia Flash.
If you're not seeing anything above the line you may need the free Flash Player. Get it here.

This site displayed with 100% post-consumer recycled electrons.

LEGO® is a trademark of the LEGO Group, which does not sponsor, authorize or endorse this web site.
Please be sure to visit the REAL LEGO homepage at http://www.LEGO.com.

All Content ©1986-2009-through the End of Time by Christopher Doyle
|
| Read updates on your

Livejournal Friendslist