---
Model: Graveyard Scene
By: Tony Sunderhaus
Tasting and Judgement
Unique Use of Squid
(50 Points)

General
Coolness
(30 Points)

Pimposity
(20 Points)

Judge's Comments

Total Ponts

Final Ranking

15

10

15

I like Squid as bolt of magic, its kinda neat, if borderline ammo

40

3-way tie

25

20

15

50

40

20

10

its ok

70
I hope this doesn't count as ammo, since harry is shooting at Voldemordt. It's the graveyard scene from Harry Poeeter and the Goblet of Fire, and the squid is standing in as a blast of magic. Any Deatheater bearing a resenblance to Luke or Anakin Skywalker is purely coincidental. I also added a dead Cedric, which I thought was missing from the original set.
Note from Chris: It's a fine line, but "Squid as Magic Effect" seems different enough from "ammo" for me.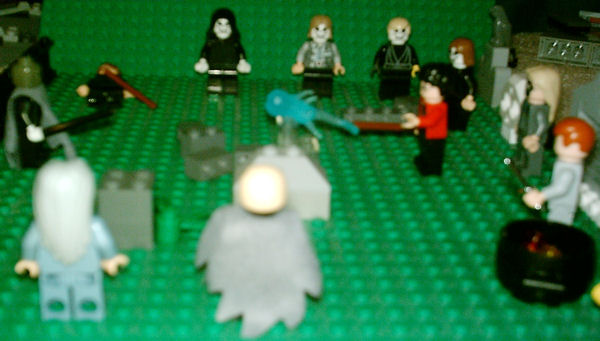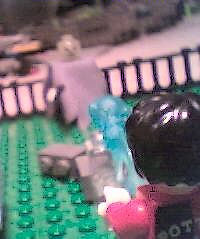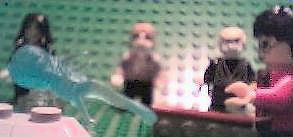 Back to the Work That Squid Entry Grid!
---
---
Portions of this site make extensive use of Macromedia Flash.
If you're not seeing anything above the line you may need the free Flash Player. Get it here.

This site displayed with 100% post-consumer recycled electrons.

LEGO® is a trademark of the LEGO Group, which does not sponsor, authorize or endorse this web site.
Please be sure to visit the REAL LEGO homepage at http://www.LEGO.com.

All Content ©1986-2009-through the End of Time by Christopher Doyle
|
| Read updates on your

Livejournal Friendslist