---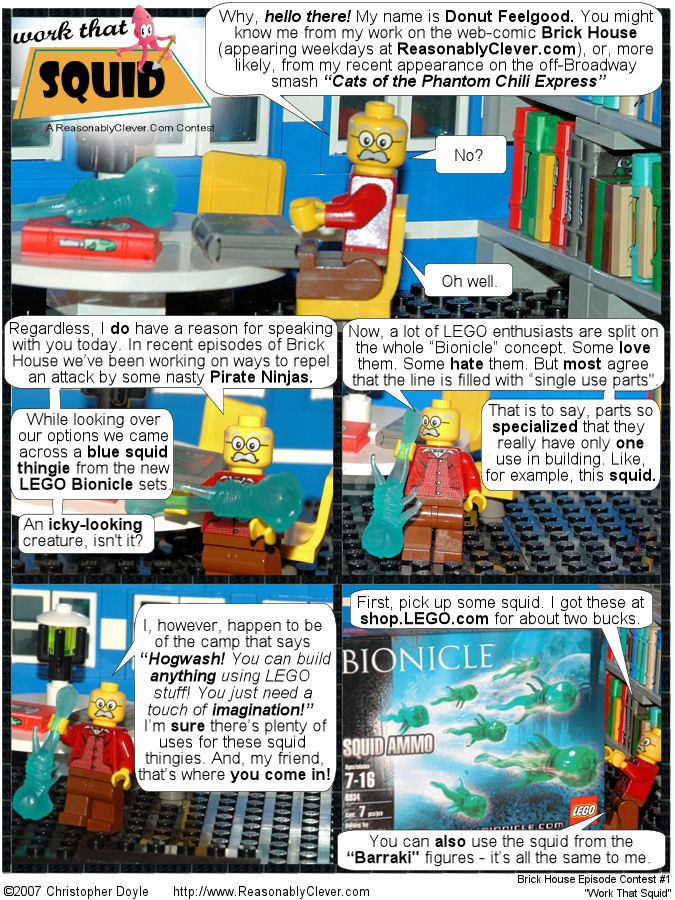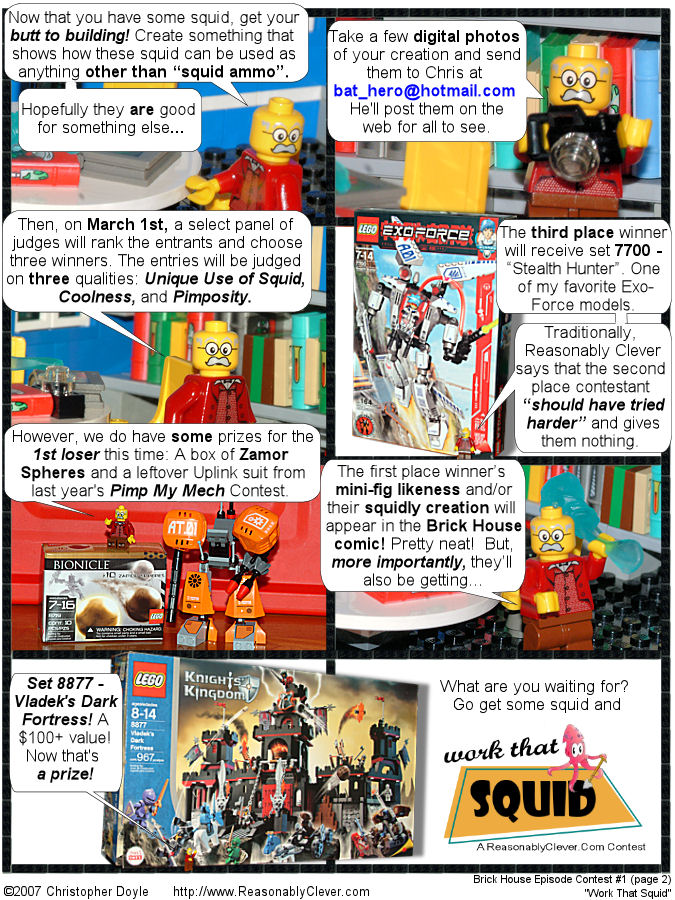 Here it is in text, with the fine print:
Work that Squid: The first Reasonably Clever Contest of 2007!
Pick up some "Squid Ammo" from the Bionicle Line and build something with it using other LEGO bricks! The catch? The squid can't be ammo. Enter as often as you want. International entries welcome and encouraged.
Digital Photos of your creations must be submitted to Chris Doyle via bat_hero@hotmail.com by Midnight EST on February 28th, 2007. These photos will be hosted at Reasonably Clever and posted for all to see.
On March 1st judging will begin on all entrants. Each model will be reviewed based on three categories: Unique use of squid, Coolness, and Pimposity. Winners will be announced the week of March 5th.
First Prize: Use of the model and/or the creator's sig-fig in an Episode of the Brick House Web Comic. They will also receive set 8877 (Vladek's Dark Fortress). The box is NOT included unless the winner wants to kick in for shipping costs.
Second Prize: A box of Zamor Spheres and a Uplink suit. (As shown, above.)
Third Prize: Set 7700 (Stealth Hunter). Again, without box unless the winner wants to pay for shipping.
For questions and other issues regarding this contest, please check the forum!
Check out the Contest Entry Page
---
---
Portions of this site make extensive use of Macromedia Flash.
If you're not seeing anything above the line you may need the free Flash Player. Get it here.

This site displayed with 100% post-consumer recycled electrons.

LEGO® is a trademark of the LEGO Group, which does not sponsor, authorize or endorse this web site.
Please be sure to visit the REAL LEGO homepage at http://www.LEGO.com.

All Content ©1986-2009-through the End of Time by Christopher Doyle
|
| Read updates on your

Livejournal Friendslist