---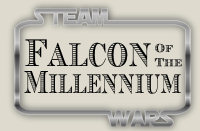 The Cockpit
The cockpit is located on the starboard side of the ship. The decking is on the same level as the main wedges; a small access ladder provides access to and from the main cargo deck.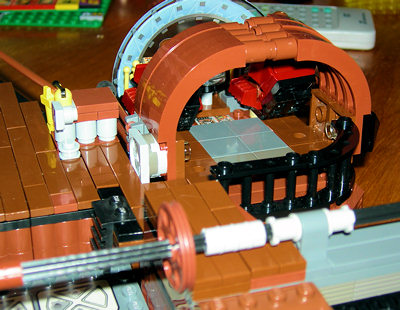 As noted earlier, since the Steampunk Falcon is strictly an in-atmosphere craft, the cockpit has no need of being pressurized and is open to the sky. A small railing that guards the back edge and a series of arches help retain the shape of the Star Wars version without being obnoxious about it.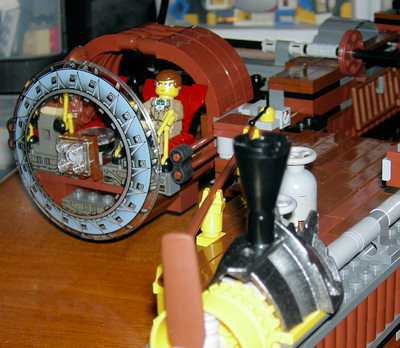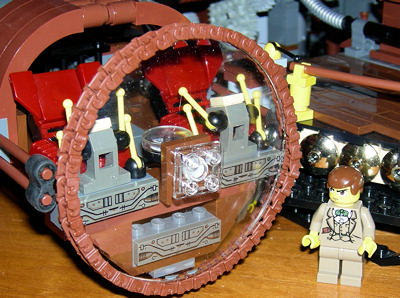 The front of the cockpit is much flatter than the Star Wars version - a real no-no for aerodynamics, I know. You have to admit, though, it looks quite spiffy. For those of you who hate that part, though, there's a second version using a chain-link edging to the right.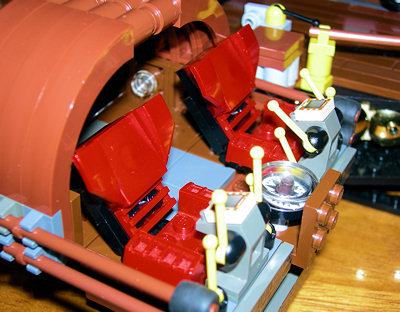 Here's a detail shot of the controls - plenty of levers to move about and a small computer read out to keep everything organized. The compass between the seats is a holdover from LEGO Pirate set - it adds a nice retro touch to things. The color is a bit off on the photo above (stupid flash!), but the seats are a deep red color, suggesting a construction of rich Corinthian Corellian leather.
We move now to the Cargo Deck to see what else there is to see!
[ Next ]
[ 1 2 3 4 5 6 7 8 9 10 11 ] [ Movie ] [Discuss]
-6-
---
---
Portions of this site make extensive use of Macromedia Flash.
If you're not seeing anything above the line you may need the free Flash Player. Get it here.

This site displayed with 100% post-consumer recycled electrons.

LEGO® is a trademark of the LEGO Group, which does not sponsor, authorize or endorse this web site.
Please be sure to visit the REAL LEGO homepage at http://www.LEGO.com.

All Content ©1986-2009-through the End of Time by Christopher Doyle
|
| Read updates on your

Livejournal Friendslist