---

...Exterior Details and Grounds
(Page Four)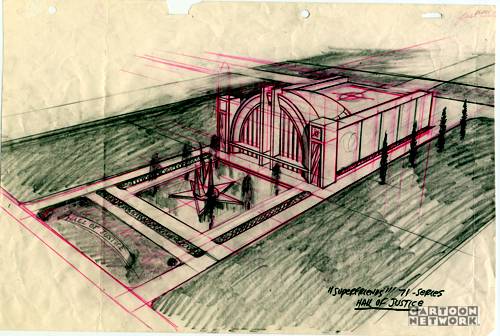 This is the last of my scrounged source images - notice the "Hall of Justice" manner on the extreme front lawn, the paved area behind the hall (with apparent cross-street access), and the suggestion of fountains along the inside edge of the reflecting pool.
The reason I saved this shot for the last page of exterior photos was for the rare glimpse of the roof area. In the sketch above you can see the dome on the backside of the arch, as well as the landing pad on the main section of the roof.
In the shots above you can see my take on these elements. The dome with the ring of windows at the bottom can be seen much more clearly in the larger views - just click on the photos to open them in a new window.
The dome sits slightly lower than the arch - this allowed me to create an analogue of the overhang seen in the finished version of the sketch above (see page 1 for that image.) The dome is attached to an extra-large grey base plate which has been set up to slide along runners on both side walls. The dome is hollow, but still has some weight to it, requiring me to minimize brick use where I could when building the rest of the roof.
To that end, the landing platform is a LEGO base plate that has been attached to the main roof structure on the four corners. This cut the finished weight considerably, although it didn't do much for the structural integrity of the piece. I wouldn't want to land Wonder Woman's invisible Jet on it, for example.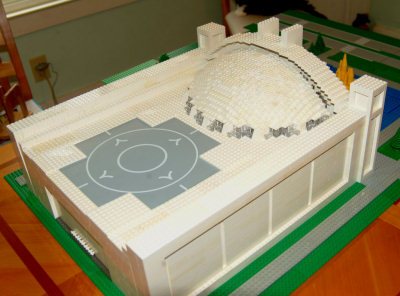 Finally, here's a better-lit shot of the roof. In this photo also note the rear garage door - in the cartoon the Batmobile would occasionally depart from the rear of the Hall through a Bat-Symbol shaped opening. I wasn't able to match that shape, but did match the door design as seen on the interior shots of the hall. Well, maybe. Check out the interior section for more on the impossibilities of parking anything inside the hall. In fact, since this concludes the exterior section of this review, why not check out the interior review now?
Hall of Justice Exterior Navigation: << First Page < Previous || Next > Last >>
The Hall of Justice

Hall of a Good Time
---
---
Portions of this site make extensive use of Macromedia Flash.
If you're not seeing anything above the line you may need the free Flash Player. Get it here.

This site displayed with 100% post-consumer recycled electrons.

LEGO® is a trademark of the LEGO Group, which does not sponsor, authorize or endorse this web site.
Please be sure to visit the REAL LEGO homepage at http://www.LEGO.com.

All Content ©1986-2009-through the End of Time by Christopher Doyle
|
| Read updates on your

Livejournal Friendslist