---
Building the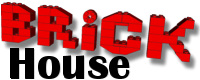 These next photos show the "modular" nature of the house - I'm able to remove each floor to better work with the interiors. I'll probably do a bit of tweaking to the design in the near future to add hinges along the two short walls for "unobstructed" interior shots. As it is,
The first floor is divided into four areas - the first quarter is the main entrance - having it recessed from the front of the building meant eating up a significant chunk of the interior. The hardwood floor starts on the exterior and continues inside to cover about 1/2 of the available floor space.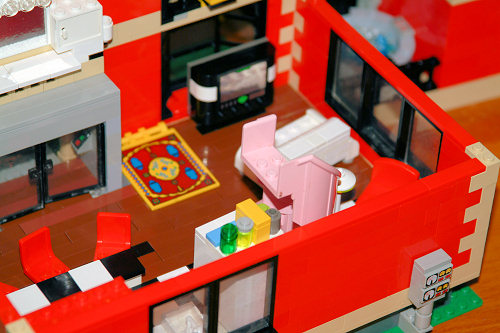 Just to the left of the doorway (and sadly out of frame) is the other side of the mail drop box in a shallow hallway. To the right of the door is a very nice rug. A rug with a hidden purpose and secret. Just what that secret is will have to wait to be revealed in the strip, however.
Continuing the right is the TV area - a nice plasma screen TV (okay, it's an old hologram sticker showing the LEGO Space channel) blocks the front picture window. There's a nice comfy couch to watch from. It seats two comfortably, and about six if you puppy-pile.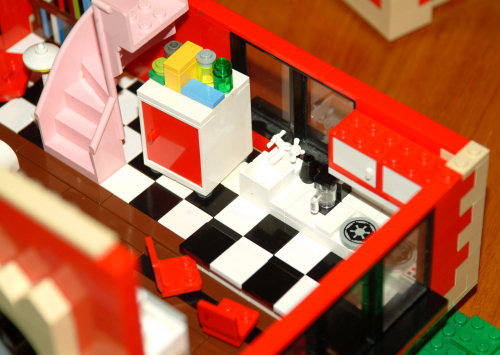 Turning around you can see the other 1/2 of the first floor. The kitchen area has a two-burner stove, coffee maker, sink, and a fridge complete with some various boxes and jars stacked on top of it. (Just like the fridge in my house.)
It's difficult to make out from this angle, but there's a raised lunch counter just in front of the red chairs. That's what I get for making the tile pattern match the floor, I guess.
The pink stairwell (soon to be replaced with a black version once a part order arrives) divides the kitchen from the reading nook. You can just about make out the reading lamp, chair and bookcase if you squint.
The view is partly obscured by the design of the front wall - to use the big picture windows and "lion facade" I needed to keep the front wall more or less one piece. It was useful for putting together the main bathroom's sink area, but otherwise it's a bit of a pain. Just another detail that may get tweaked in the future.
That's about it for the first floor - time to go upstairs.
PREVIOUS PAGE, NEXT PAGE or Navigation: [ 1 2 3 4 5 6]
---
---
Portions of this site make extensive use of Macromedia Flash.
If you're not seeing anything above the line you may need the free Flash Player. Get it here.

This site displayed with 100% post-consumer recycled electrons.

LEGO® is a trademark of the LEGO Group, which does not sponsor, authorize or endorse this web site.
Please be sure to visit the REAL LEGO homepage at http://www.LEGO.com.

All Content ©1986-2009-through the End of Time by Christopher Doyle
|
| Read updates on your

Livejournal Friendslist