---
Building the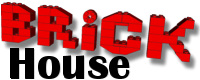 Up the final flight of stairs you'll find a long hallway (with a particularly nifty spiral pattern etched into the tile on the floor) with doors on two of the walls, and a window on the third.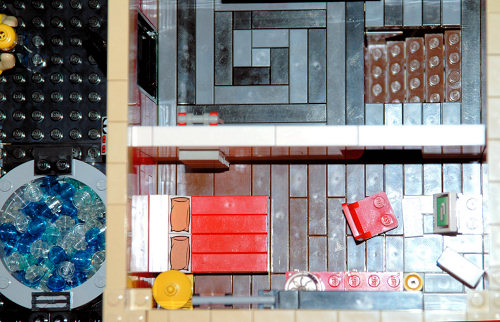 (You can't make out the window in this shot, but it's along the 'top' wall from this perspective.)
The hallway leads out to an outdoor balcony, the second door leads into the House's second bedroom. In the photo, above, you can see the queen bed (four studs wide, will fit two in friendly comfort), reading light, dresser and computer desk and chair. The grey bar towards the bottom of the shot has a wall hanging on it, and the grey bricks protruding from the top of the bedroom's wall comprise the ladder last seen back on page one.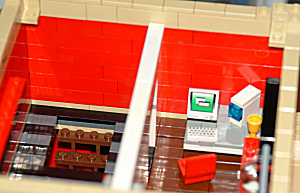 This angle shows a bit of detail in the bedroom- you can see the layout of the computer desk, for one thing. The stairwell is a bit tough to navigate at present, but please remember it's only a placeholder for the "real" stairs which will hopefully arrive soon.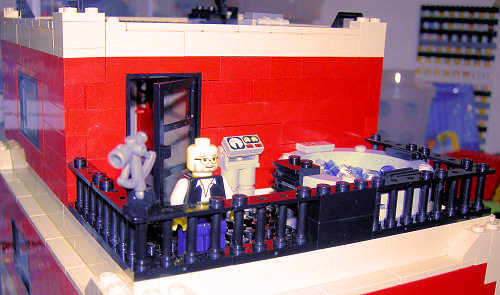 Ah. but the real thrill of the third floor is the balcony. And the real thrill of the balcony is the hot tub. You get an aerial shot of it at the top of this page, but this photo shows the ladder to climb in and the water purifier controls next to the door back inside.
Also on the balcony is a sextant/telescope for checking out the stars. It will probably get mis-used once there are some buildings around the House...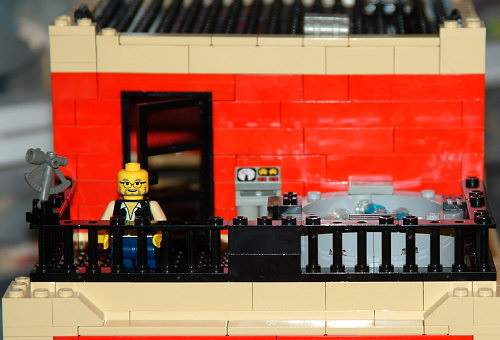 And with that we complete our tour of the Brick House!
At least....at this scale! Continue reading for a small shock!
PREVIOUS PAGE, NEXT PAGE or Navigation: [ 1 2 3 4 5 6 ]
---
---
Portions of this site make extensive use of Macromedia Flash.
If you're not seeing anything above the line you may need the free Flash Player. Get it here.

This site displayed with 100% post-consumer recycled electrons.

LEGO® is a trademark of the LEGO Group, which does not sponsor, authorize or endorse this web site.
Please be sure to visit the REAL LEGO homepage at http://www.LEGO.com.

All Content ©1986-2009-through the End of Time by Christopher Doyle
|
| Read updates on your

Livejournal Friendslist