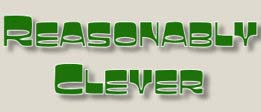 ---
The MST3k Project
Page 2
The robots in MST3k were built from "found objects" by series creator Joel Hodgson. There are a lot of great fan sites devoted to helping fans build their own versions of the bots by identifying those found items and detailing how Joel and company assembled them. My first step in this project was to review those sites to help make sure my LEGO versions would be as close to the real thing as I could manage.
Luckily, I already had one of the key components for Tom Servo already on hand - the bubble gum dispenser used for his head. With that as a starting point, I began translating plastic into...well, a different brand of plastic.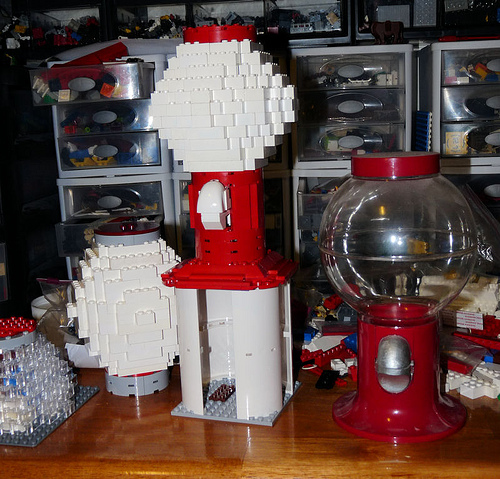 This photo shows my first several attempts to replicate Tom's head. The main challenge was the clear dome - I was working with a largish stash of 1x2 clear bricks, but building a sphere out of them is tricky even at the best of times.
My initial ideas for the bots were pretty ambitious. This photo shows the working mouth articulation, based on the same mechanics used in the real puppet.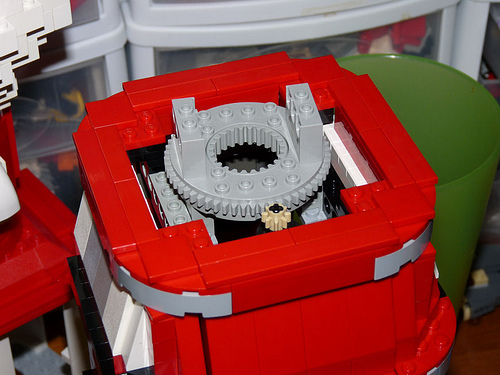 The head was going to be mounted on this Technic turntable with the idea that I could use a LEGO-based IR controller to make my Tom turn his head and open his mouth remotely.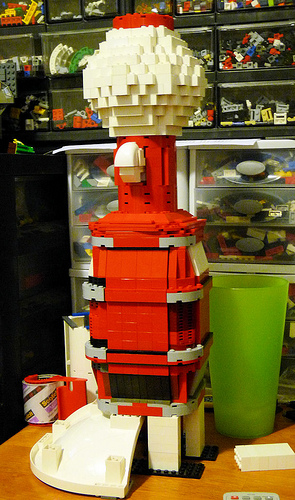 Here's an early prototype of Tom's barrel torso. Already you can see where my LEGO collection is falling short - the mismatched colors on the bricks would end up requiring many a trip to BrickLink to correct.
I was also experimenting with using some unusual LEGO pieces to construct his hoverskirt. While it wasn't a terrible match in shape, the scale was too far off and I had to go with more traditional building methods for the final build.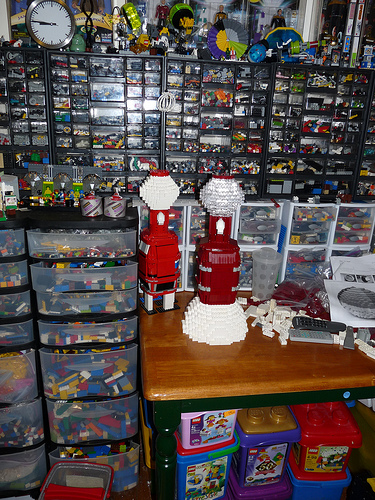 It was at this point I made a tough call. I decided to move from the mass produced LEGO basic red to the more show-accurate deep red at right. The problem? LEGO hasn't produced many of their parts in the dark red color yet. The pieces are more expensive, and more restrictive. Due to the way the head needed to be constructed, moving to dark red would also mean abandoning the remote control features.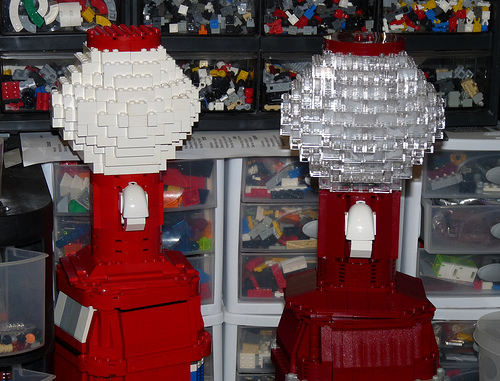 In the end I decided to go with style over substance - Tom needed to look his best.
---
---
Portions of this site make extensive use of Macromedia Flash.
If you're not seeing anything above the line you may need the free Flash Player. Get it here.

This site displayed with 100% post-consumer recycled electrons.

LEGO® is a trademark of the LEGO Group, which does not sponsor, authorize or endorse this web site.
Please be sure to visit the REAL LEGO homepage at http://www.LEGO.com.

All Content ©1986-2009-through the End of Time by Christopher Doyle