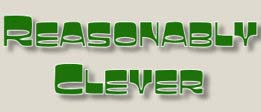 ---
The MST3k Project
Page 3
With Tom's head and chest pretty much done, it was time to work on his Hoverskirt. This was a classic "Build something round from square bricks" challenge. The only real difficulty was figuring out the size and shape needed - I hadn't managed to track down any dimensions on he bowl yet, so I was forced to just wing it.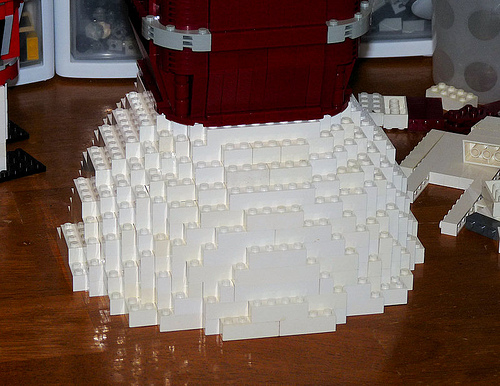 The first result (seen above and on the previous page) was far too small. It had a nice curve to it, though.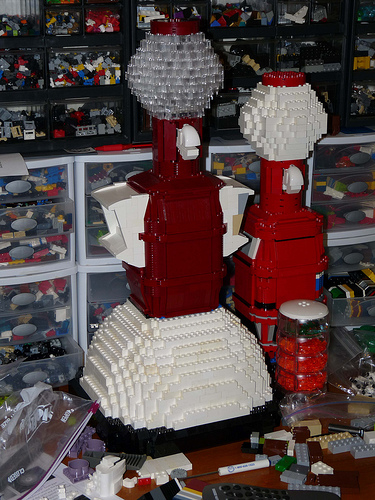 Luckily, I was able to widen the original version to create a deeper bowl. Adding the black trim around the rim of the bowl also helped match the look I was going for.
The photo above shows the addition of Tom's shoulders as well as the results of cleaning out any vendor with a reasonable quantity of dark red brick. Of course, I was finding new gaps in my collection all the time - if you look closely at Tom's shoulder you can see where I ran out of a particular type of white brick.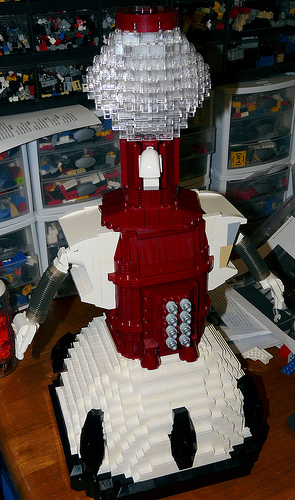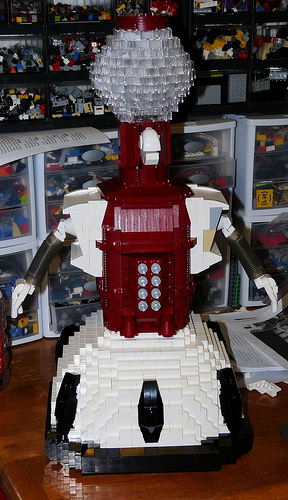 Eventually,. though, Tom reached "Nearly Done" status. I'm particularly happy with my solution for mimicking the springs on his arms - those are bits of tubing from a "Mission to Mars" set cut to length with technic gears jammed into the ends for attaching to the hands and shoulders.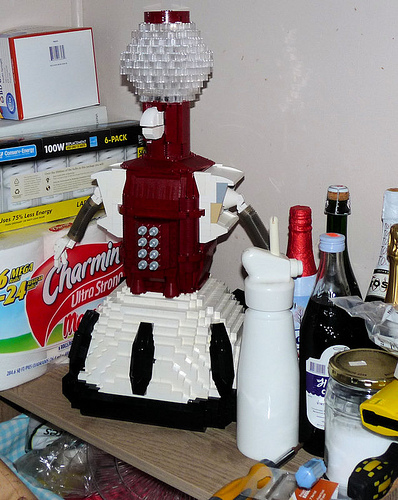 Sadly, it was time for Tom to go sit on a shelf in storage. There just wasn't enough room in my workshop for him to hang around while I started working on Crow.
---
---
Portions of this site make extensive use of Macromedia Flash.
If you're not seeing anything above the line you may need the free Flash Player. Get it here.

This site displayed with 100% post-consumer recycled electrons.

LEGO® is a trademark of the LEGO Group, which does not sponsor, authorize or endorse this web site.
Please be sure to visit the REAL LEGO homepage at http://www.LEGO.com.

All Content ©1986-2009-through the End of Time by Christopher Doyle