---
Reasonably Reviewed: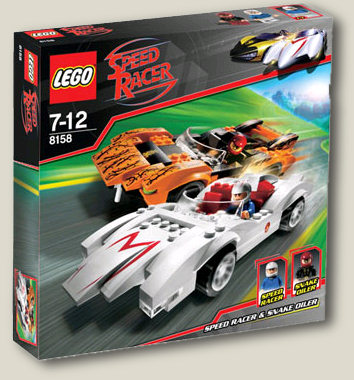 Set 8158: Speed Racer & Snake Oiler
General Overview:
In April of 2008 LEGO released four sets licensed from the (then upcoming) Speed Racer movie.
Of the four sets, only one, 8158, featured the classic Mach 5 made famous by the cartoon series. The other sets focus on Racer X, what I assume to be the movie version of the Mammoth Car, and the "big set" that features the all new Mach 6. While I found the other three sets tempting, my fan-boy leanings meant that The Mach 5 would be coming home with me first.
The product text from LEGO.Com gives a decent overview:
Race against Snake Oiler in the supercharged Mach 5!
Join Speed Racer at the wheel of the famous Mach 5 supercar as he races against his rival, the tricky Snake Oiler. Who will win the Casa Cristo Classic cross-country road rally?

Includes Speed Racer and Snake Oiler minifigures!
Includes Speed Racer's white supercharged Mach 5 and Snake Oiler's orange racecar!
Cars measure 6½" (17cm) long!
Strangely, rather than giving these sets their own "Theme" classification, LEGO decided to group them as a sub-theme under the existing "Racer" product line. (The cynic in me wonders if that was a move to help the Racer theme show more of a profit in 2008. But whatever.)
The set retails for about $20 in the USA - $10 per race car isn't too steep a price to pay. For the price point, the models are ...okay. There are a lot of new piece molds to enjoy, and, well....it's the Mach 5.
The problem is that even with swanky new molds, the Mach 5 didn't survive the transition to 8-studs wide very well.

From the side there's very little to complain about. The lines are smooth, the curved windshield looks great, and the new hubcaps and mudguards look awesome. I would have liked to see some more tiles in the set to give the Mach 5 a true "sleek and studless" look, though.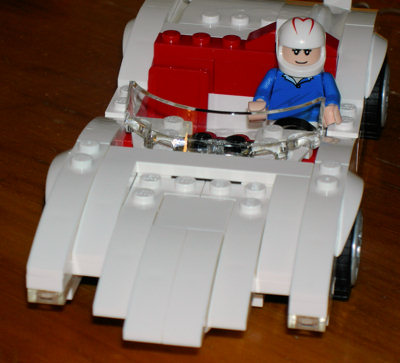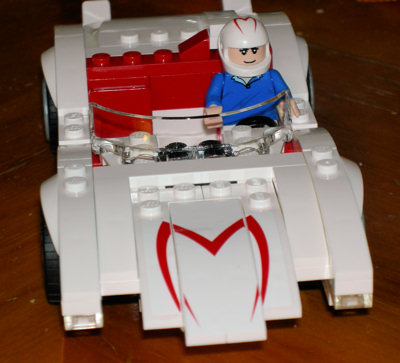 From the front you can start to see some flaws. The body's construction is far from "gapless." There are big holes on either side of the windscreen. And we run into the problem of stickers - the signature "M" on the hood consists of three of them ...covering five pieces. That means the center section (made up of two curved slopes and a square tile) becomes a "one time assembly" when you put that sticker on. I hate that.
Still, looking at the before-and-after photos above, you see that the stickers really are necessary to smooth out the front of the car.
Normally, I'm a big opponent of huge "single use" pieces. But in this case a giant duplo scale front end with the Mach 5's curves would have been welcome. The solution here isn't terrible...but it's not really all that great either.
I didn't bother to take any photos of the cabin details - because other than two chairs and a steering wheel there aren't any. Was LEGO cutting corners and trying to meet a certain piece count? There's not even a gearshift for poor Speed! Heck, he can't even reach the steering wheel!
Oh, and that strange gap behind Speed's head in the side shot? My set was missing a brick.
Yes. I'm grumpy about it.
Overall, I'm not as happy with the Mach 5 as I should be. Oh, I still like it, despite all my geeky whining. But there's just so much room for improvement...and I've come to expect better from LEGO's designers.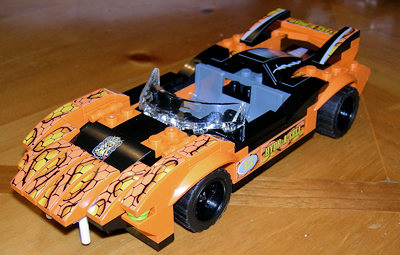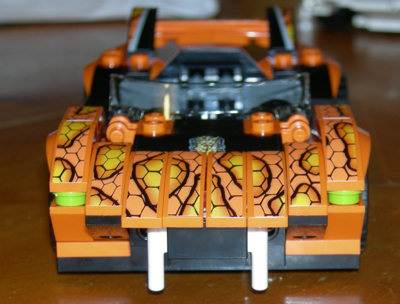 Snake Oiler's car is about what you'd expect. Lots (LOTS) of stickers, no hubcaps, a slightly more detailed cabin (a sloped brick for an armrest!) and many of the special pieces in the Mach 5 recast in either orange or black.
I do have to laugh at the "fangs" on the front of the car, though.
Parts and Rare Bits:
This set comes in a 242 parts - a smidge high for the $20 price point, and a possible reason the cars feel a bit "stripped down". (A rule of thumb is that a LEGO set will usually run about a dime per part.) While the common parts are just that, this set does have a bunch of brand new bricks.
First up are these swanky 4-stud long curves. They follow the same curve as the 3-stud version. This set has them in both white and black.

(They also come in Red in a new Ferrari set, and yellow in the Racer-X sets)

These new mudguards are sure to have a lot of applications beyond just cars. I can see them being used as details on arches and windows in Town and CITY builds in the very near future.

They come in both orange and white in this set.




While the wheel wells are nothing new (they've been around since 2007 in Race and CITY sets) these silver hubcaps are a snazzy addition to the LEGO catalog.

And, finally, the real star of the show - the new 3x6x1 Trans-Clear Curved Windshield. I can't wait to use this in my own creations.
Mini-Figures: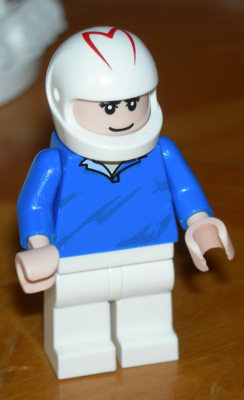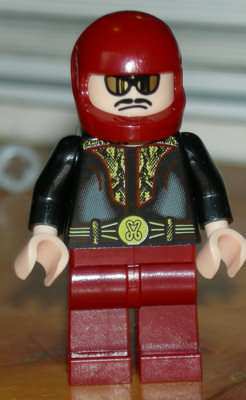 The two mini-figures, although cast in the annoying "movie tie-in pink", are quite nice. Speed comes with a printed "M" helmet, a new face design, and a new blue shirt torso. It would have been nice had they included a normal black wig for Speed - he did a lot of driving without his helmet after all. Yes, a black wig and a red bandanna accessory...you can really see that LEGO drew a line in the sand when it came to part counts.
Snake comes with a new face print (check out those gold toned shades!) and a fairly intricate torso print. I assume they're matching movie colors for his outfit, but I wonder why he has dark red highlights instead of orange to match his car.
So, How did LEGO do?
I'm torn on this one. On one hand, I would have gladly have paid $30 for a Mach 5 Set with the styling and detail that LEGO normally produces. On the other, for a $20 set, there's a lot of value here.
But that's the beauty of LEGO. I can take their base model and add those 50 missing parts from my own collection - and make a Mach 5 that matches up with my imagination in a way that no LEGO designer could hope to do. And in the meantime, there's a set that's reasonably priced and could possibly bring a bunch of new fans into the LEGO aisle.
So...not quite a home run this time, LEGO. But close.
I give Speed Racer & Snake Oiler four out of five severed LEGO heads!





Want to discuss this set? Check out the blog!
---
---
Portions of this site make extensive use of Macromedia Flash.
If you're not seeing anything above the line you may need the free Flash Player. Get it here.

This site displayed with 100% post-consumer recycled electrons.

LEGO® is a trademark of the LEGO Group, which does not sponsor, authorize or endorse this web site.
Please be sure to visit the REAL LEGO homepage at http://www.LEGO.com.

All Content ©1986-2009-through the End of Time by Christopher Doyle
|
| Read updates on your

Livejournal Friendslist