---
Snack-Sized Serenity
Photos and Information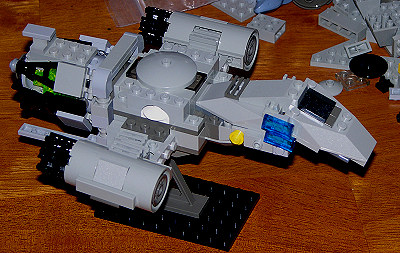 This version of Serenity came together much faster than the "Mamma Serenity" model that most of you are already familiar with. This was the result of roughly a week of thinking and sketching, and about two solid evenings of fiddling around with real parts until I had the finished product. My wife is partly responsible for the final look - she was working on her own crafty projects in the Workshop when she noticed that my firefly drive section was much too small. She pestered me about it until I rebuilt it at a better scale.
(Yes, I'm married. Yes, she tolerates my LEGO addiction. Yes, I know how lucky that makes me.)
Anyway, my goal was to retain as much detail as I could from the "Mamma Scale" - and for the most part I feel I did a good job at that. The solar panels on the bridge are still there, as are both shuttles. As you'll see in a moment, the vanes on the Firefly Drive work. The windows into the kitchen and commons are there, and even a yellow 1x1 round plate to represent the Serenity logo on the side of the neck.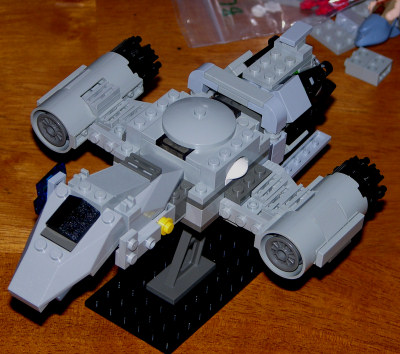 There's even an improvement - at this smaller scale the engines are light enough to rotate and hold their position. At last, a real "Play Feature!" But let's take a look at that engine...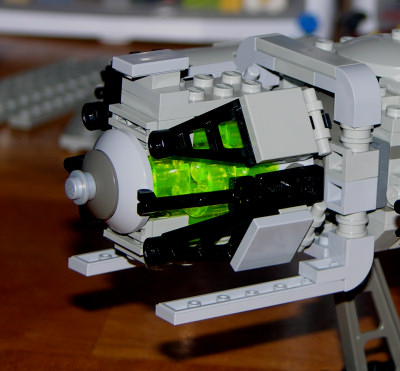 Here's a nice detail shot of it with the vanes closed....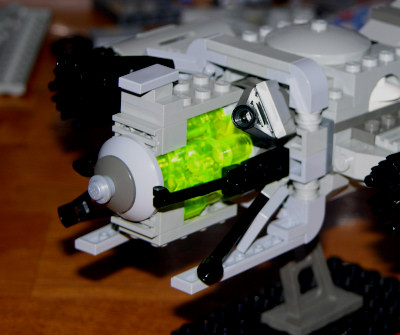 ...and then opened! The transparent bricks making up the drive may not light up like the big version, but they do a decent job of looking illuminated all the same.
Now, I don't have a kit or plans or anything for this next bit...and you really shouldn't look until you've seen the Serenity Movie. Okay? Promise me you'll only click if you've already seen the movie.
Straight ahead to Spoiler Snack-Sized Serenity
---
---
Portions of this site make extensive use of Macromedia Flash.
If you're not seeing anything above the line you may need the free Flash Player. Get it here.

This site displayed with 100% post-consumer recycled electrons.

LEGO® is a trademark of the LEGO Group, which does not sponsor, authorize or endorse this web site.
Please be sure to visit the REAL LEGO homepage at http://www.LEGO.com.

All Content ©1986-2009-through the End of Time by Christopher Doyle
|
| Read updates on your

Livejournal Friendslist