---
Playmobil Advent Calendar 2006- Day 13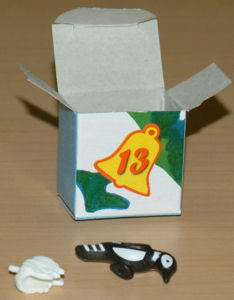 More white gunk and what appears to be a Woodpecker. I guess our tree "branched out" just in time for new additions to the cast.
(Okay, I'm sorry about the "branched out" joke. It's early.)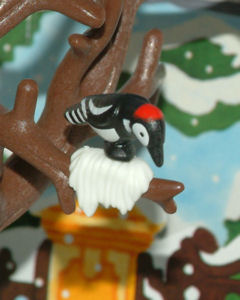 Bernie: Shalom, Sarah! How are the Holidays treating you so far?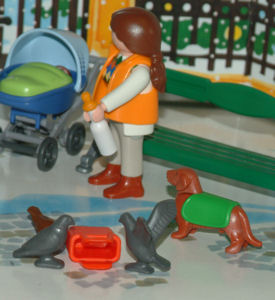 Sarah: "Shalom"? Wait...is that a yarmulke? Let me guess. You're here to represent the Jewish faith.
Bernie: Not really.
Sarah: But...what about all your stereotypical Jewish affects?
Bernie: What, are you talking about my nose? I'm a bird. It'd be weird if it wasn't beak-like.
Sarah: I...what? No! I'm not going to be making jokes like that! I don't even HAVE a nose!
Bernie: Look, bubulah, my faith is my own business. I was just asking how things are going for you this holiday season. Do you have to make a big deal out of everything?
Sarah: I...no. I'm sorry. Things have just been overly dramatic in my life lately. Good. Evil. The Fight for my soul. That sort of thing.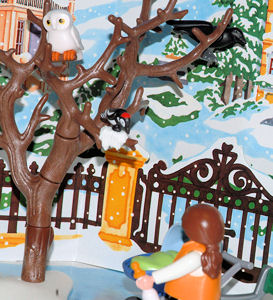 Phil: Drama-Queen. You love it. Admit it. Wallow in it.
Ed: Nice try, Phil. I think you've managed to read Sarah wrong yet again.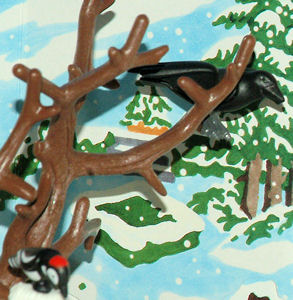 Bernie: So, the owl, he's a bit of schmuck, no?
Ed: In one.
Click here to go to the next day!
---
---
Portions of this site make extensive use of Macromedia Flash.
If you're not seeing anything above the line you may need the free Flash Player. Get it here.

This site displayed with 100% post-consumer recycled electrons.

LEGO® is a trademark of the LEGO Group, which does not sponsor, authorize or endorse this web site.
Please be sure to visit the REAL LEGO homepage at http://www.LEGO.com.

All Content ©1986-2008-through the End of Time by Christopher Doyle
RSS Feed:

| Bookmark at

Del.icio.us | Read updates on your

Livejournal Friendslist