---
Playmobil Advent Calendar 2006- Day 17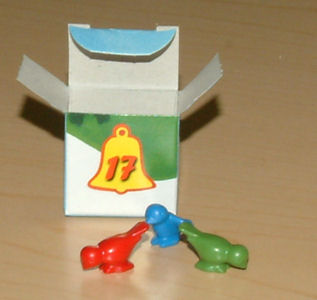 Red, Blue, and Green birds. Aren't these guys trademarked by Viewsonic?
RGB: Popcorn! Looks like our timely arrival wasn't a moment too soon!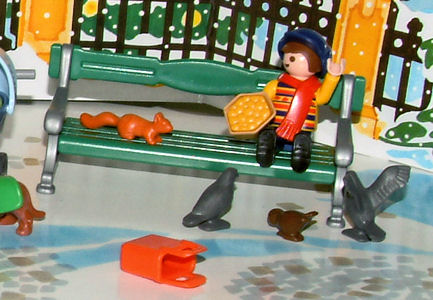 Timmy: Me feed all the Am-in-Als!
Bert: Quit bogarting the popcorn, Ernie!
Ernie: Screw you. I'm tired of being the nice one.
Birdy: There appears to be plenty for everyone...
Brother Nutter: Not if Tim-Tim here doesn't stop waving and start dishing, there's not.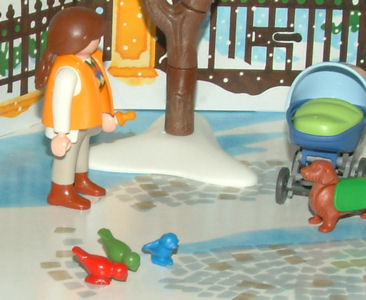 Sarah: So that's it? Tim does a good deed and now he's a force for evil?
Dogma: He can always ask for forgiveness.
Sarah: For what? Being given stuff that he then used to feed the hungry? Seems like a selfless act of goodwill to me.
Dogma: Right. And if he truly repents, God will surely forgive him.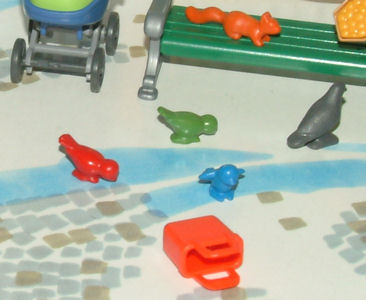 RGB: Quiet now. Eating.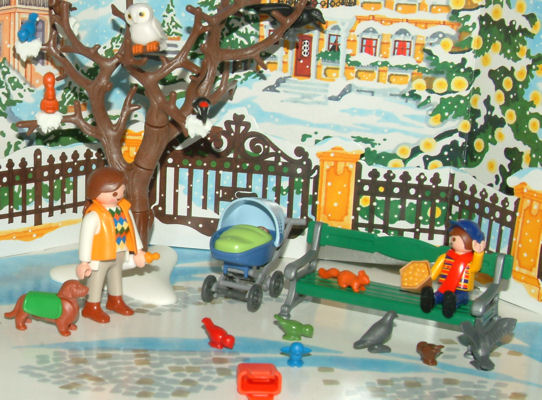 Sarah: Owl, how can Tim be evil if all the animals love him?
Phil: I got the idea from the Eddie Murphy Remake of "Dr. Doolittle." No one can tell me Eddie Murphy isn't evil.
Dogma: I don't know about evil. Inept, maybe.
Sarah: I'm just confused. I've never seen a force for evil do so much good before.
Dogma: I might suggest that the owl, as well as Tim, are inept as well.
Click here to go to the next day!
---
---
Portions of this site make extensive use of Macromedia Flash.
If you're not seeing anything above the line you may need the free Flash Player. Get it here.

This site displayed with 100% post-consumer recycled electrons.

LEGO® is a trademark of the LEGO Group, which does not sponsor, authorize or endorse this web site.
Please be sure to visit the REAL LEGO homepage at http://www.LEGO.com.

All Content ©1986-2008-through the End of Time by Christopher Doyle
RSS Feed:

| Bookmark at

Del.icio.us | Read updates on your

Livejournal Friendslist