---
Playmobil Advent Calendar 2006- Day 19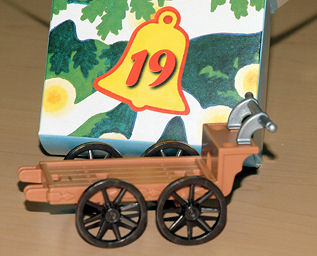 As we close in on the final days of the 2006 Advent, Playmobil does seem to be moving past the "Woodland Animals and more Woodland Animals" theme. Today's box held this cart. I assume we'll see something to go ON the cart in the next couple of boxes.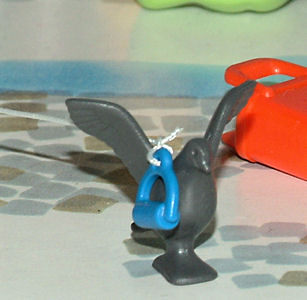 Bert: Tim, I sez, Tim, I don't think this is working.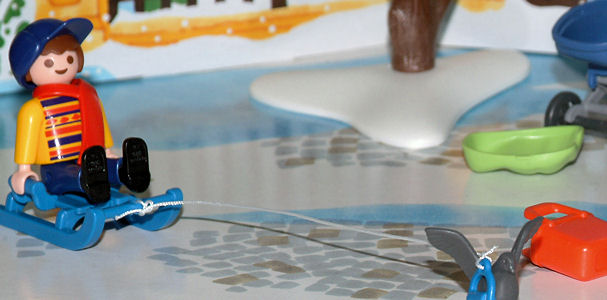 Timmy: Giddy-up, Bird-ee!
Bert: I'm telling ya, Kid, a five ounce bird is not going to be able to pull your coconut-ness anywhere. Regardless if I have you on a line or not.
Timmy: GIDDY-UP!
Bert: *sigh*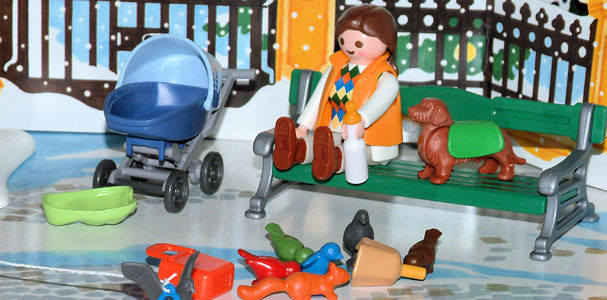 Sarah: Ahh. I still don't know what's in this bottle, but I'm all toasty warm now. I'm also very glad we have a bench to sit on. *hic* And, Dog? Have I told you that I love you? Because I do, man. I love you.
Dogma: I....see. Sarah, aren't you worried about Damien? He's been gone for hours. There's no telling what he's getting up to. And he's your SON...
Sarah: Don't try and guilt me, bitch. He's not my child. They tried to foist him off on me, and I was too young to know to say "no."
Dogma: Youth is no excuse. You must repent...
Sarah: Stuff it. I don't love you anymore. Hey! Look! There's Damien, now! HI, DAMIEN!!!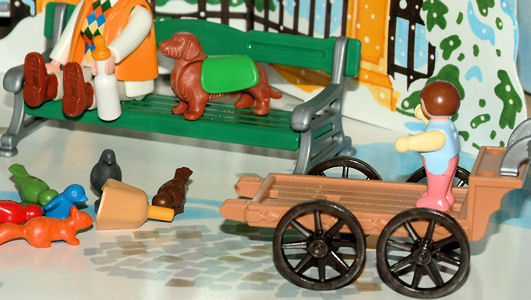 Damien: Greetings, Mother. I approach on the wheels of death itself!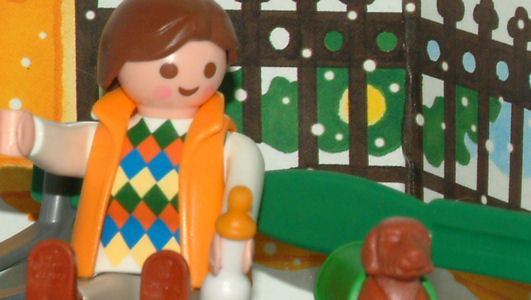 Sarah: You are moving pretty quick there! You might want to...slow.....down....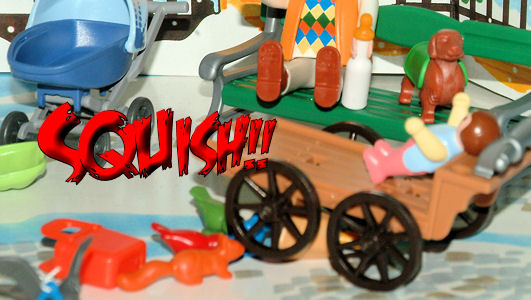 Damien: NO BRAKES!!!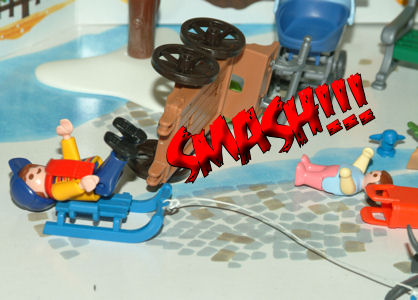 Damien: Time to bail, I think.
Timmy: OUCHIE! Tim Tim's arm not supposed to bend this way!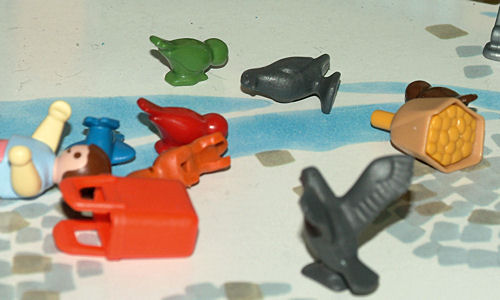 Bert: My god! Ernie! Ernie, I sez! Wake up! Ernie!
Damien: That was radical. I need to back up and try this a second time.
Bert: Eeeeeeerrrrrrnnniiiiiiiiieeeeeeeeeeeeeeeeeeeeeeee!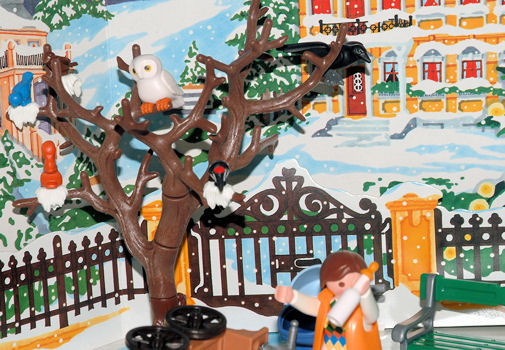 Sarah: They're DEAD! They're all dead!!
Phil: Where is your God now, Raven?
Click here to go to the next day!
---
---
Portions of this site make extensive use of Macromedia Flash.
If you're not seeing anything above the line you may need the free Flash Player. Get it here.

This site displayed with 100% post-consumer recycled electrons.

LEGO® is a trademark of the LEGO Group, which does not sponsor, authorize or endorse this web site.
Please be sure to visit the REAL LEGO homepage at http://www.LEGO.com.

All Content ©1986-2008-through the End of Time by Christopher Doyle
RSS Feed:

| Bookmark at

Del.icio.us | Read updates on your

Livejournal Friendslist