---
Playmobil Advent Calendar 2006- Day 21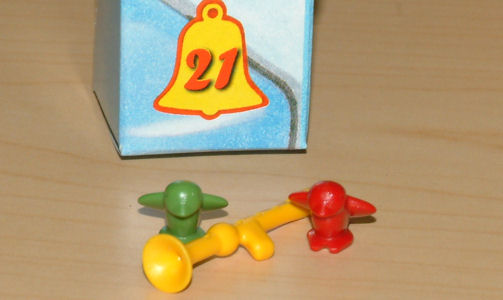 Okay. This is getting stupid. With only three boxes left on the calendar, Playmobil has given us two more birds. This brings the running total to:
| | |
| --- | --- |
| Human-like Characters | 4 |
| Birds of Many Types | 13 |
| Mammals (Non-Human) | 3 |
This is clearly goofy. Depending on how you count things, the Birds are just *barely* outpaced by scenery and accessories. I can't speak for anyone else, but in the future I'm going to take a look at the part inventory on the Playmobil calendar before I pick it up. If it's more animal-mayhem...I'm leaving it on the shelf.
Anyway. Back to the story.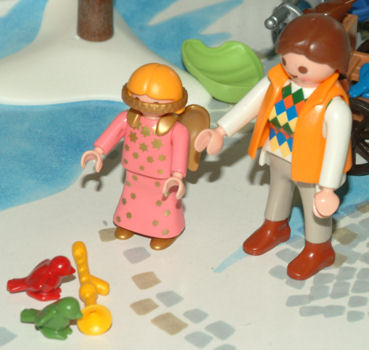 Angel: Ah! The instrument of fate!
Sarah: Um...all I see are a couple of birds and a flute.
Angel: Yes! The instrument of fate!
Sarah: Which? The birds or the flute?
Angel: The flute, obviously. The birds are just more filler.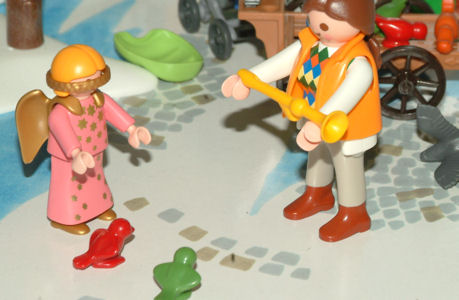 Sarah: So..."instrument of fate", eh? What...what do I do with it?
Angel: You don't do anything. It is a symbol of what needs to occur.
Sarah: You're not making any sense.
R2G2: If you build it, he will come.
Sarah: "He" who?
R2G2: We are merely the messenger. You'll just have to trust us and build it.
Sarah: Build what, exactly?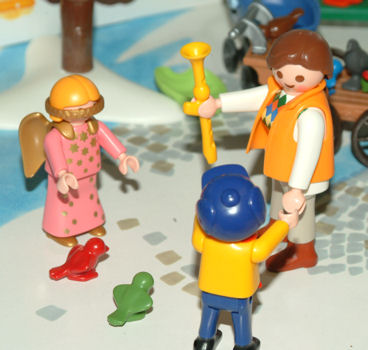 Timmy: ME play flute!
Angel: Lo! A sign!
R2G2: Yes! Yes! A sign!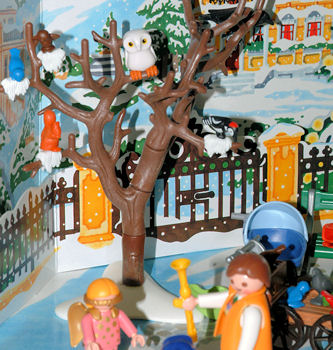 Ed: I'm not following any of this.
Phil: That stupid Angel. She's going to screw up everything I've worked for.
Ed: Good.
Click here to go to the next day!
---
---
Portions of this site make extensive use of Macromedia Flash.
If you're not seeing anything above the line you may need the free Flash Player. Get it here.

This site displayed with 100% post-consumer recycled electrons.

LEGO® is a trademark of the LEGO Group, which does not sponsor, authorize or endorse this web site.
Please be sure to visit the REAL LEGO homepage at http://www.LEGO.com.

All Content ©1986-2008-through the End of Time by Christopher Doyle
RSS Feed:

| Bookmark at

Del.icio.us | Read updates on your

Livejournal Friendslist