---
Playmobil Advent Calendar 2006- Day 22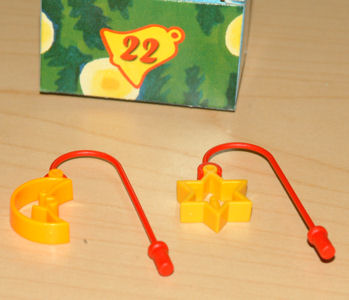 You know, I'm not quite sure what these things are supposed to be. Beyond the obvious description of "star and moon on sticks" there isn't a whole lot to work with here. Maybe it's a Danish thing. If someone has info on these, email me and I'll add it in.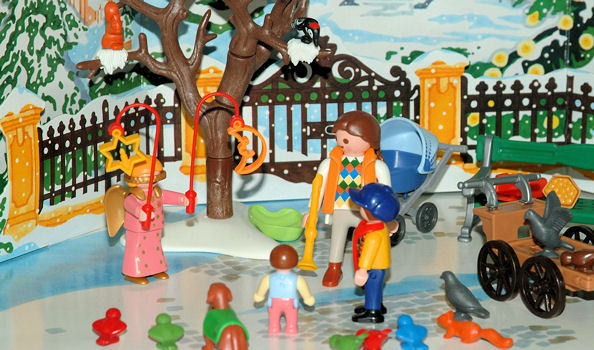 Sarah: So...a bright flash of light and then....what?
Angel: Then we use these!
Phil: What are those?
Ed: I was hoping you knew.
Angel: They're summoning sticks!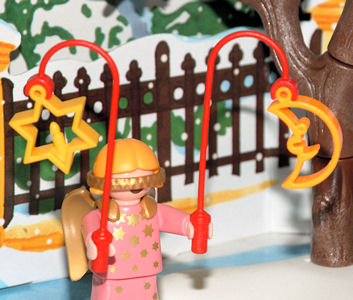 Angel: We must build up a massive charge of Holiday Cheer - and these sticks will focus that energy and create a beacon.
Damien: A beacon? For who?
Angel: You'll see, evil one. You'll see.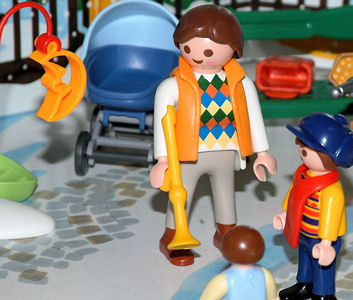 Sarah: Well, my cheer level would be a lot higher if you hadn't sobered me up.
Angel: It couldn't be helped, Sarah. Your Cheer must be pure!
Timmy: I'm FULL of CHEER!
Angel: You sure are, Timmy! Good for you!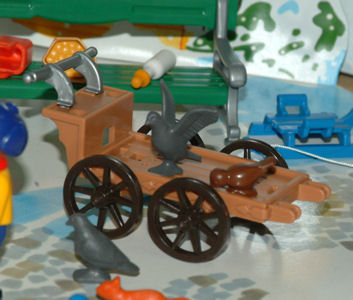 Bert: Whaddya think, Ernie? Should we trust the Gal in the Fram Oil Filter?
Ernie: She brought me back from the dead, Bert. I have a feeling we can trust her big-time.
Birdy: Or you can claim she yanked you back from your next Karmic level and she should be fought with all the will you possess.
Ernie: Yeah, that'll happen.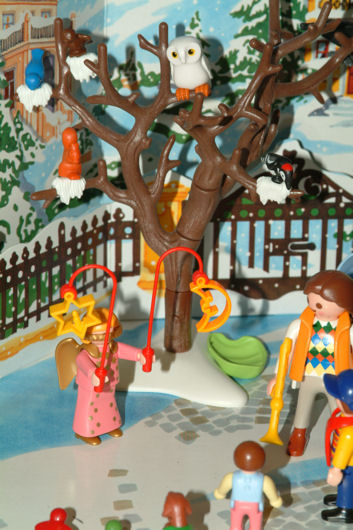 Angel: Please! Focus on the Christmas Icons! Together we can do this!
Mounds: What's in it for us?
Angel: The sooner we finish this storyline, the faster you can leave.
Mounds: Works for me.
Birdy2: Me, too. All together now....
Click here to go to the next day!
---
---
Portions of this site make extensive use of Macromedia Flash.
If you're not seeing anything above the line you may need the free Flash Player. Get it here.

This site displayed with 100% post-consumer recycled electrons.

LEGO® is a trademark of the LEGO Group, which does not sponsor, authorize or endorse this web site.
Please be sure to visit the REAL LEGO homepage at http://www.LEGO.com.

All Content ©1986-2008-through the End of Time by Christopher Doyle
RSS Feed:

| Bookmark at

Del.icio.us | Read updates on your

Livejournal Friendslist