---
Playmobil Advent Calendar 2006- Day 23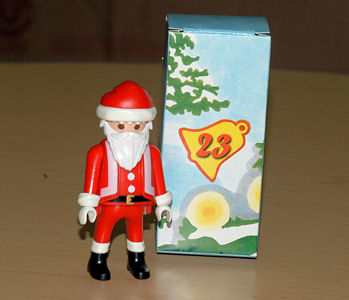 Okay, color me confused one again. This is an Advent Calendar - and Santa shows up on the 23rd??? What the heck is going to be waiting for us tomorrow...the day Santa is supposed to arrive? Mrs. Claus? A Reindeer? A gift receipt from Target so we can take this lame-o Calendar back from where it came from?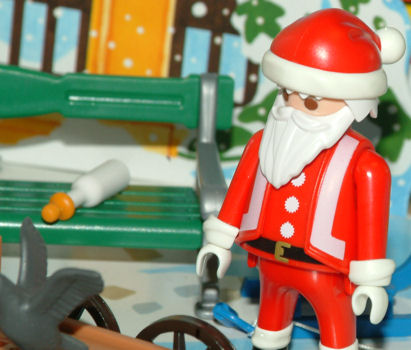 Santa: Who SUMMONS THE SANTA?
Bert: Holy Crow! It worked!
Santa: You have called and I have arrived. Now, really, guys, don't you have any patience at all? I mean, I'm here..what...a day early? You couldn't wait until Christmas Eve like the rest of the planet?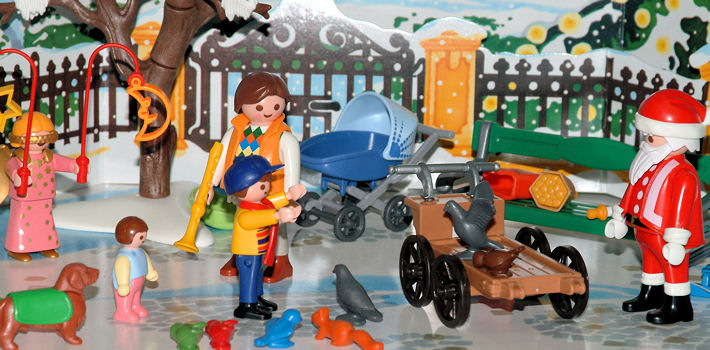 Timmy: SANTA!!!! SANTA SANTA SANTA SANTA SANTA!!!
Santa: Ah. You used a four year old's urgency.
Angel: And a lot of misdirected Animal Enthusiasm.
Santa: But....why? What's so important?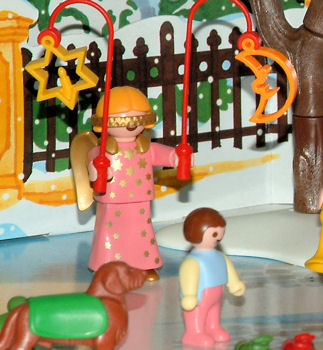 Angel: It's like this - Sarah here has to decide if she's going to be a force for good or for evil...
Birdies: Or neither!
Angel: ...or neither. And she has to decide soon. Before the Advent Calendar ends. But there's no hint as to how she's to decide - just a bunch of fur and feathers nattering at one another. Santa, we need your help.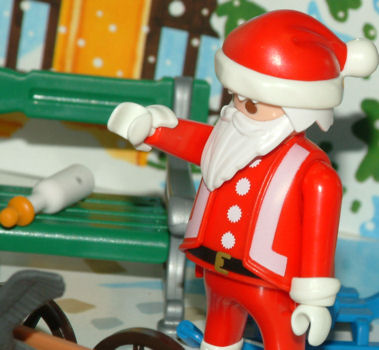 Santa: You need help, all right. No doubt of that. Okay, so I'm guessing the "reasoned debate" avenue has been abandoned.
Sarah: I tried that! I did! They ignored me.
Santa: Hmmmm. But you have been listening to all these critters this month, right?
Sarah: Like I had a choice.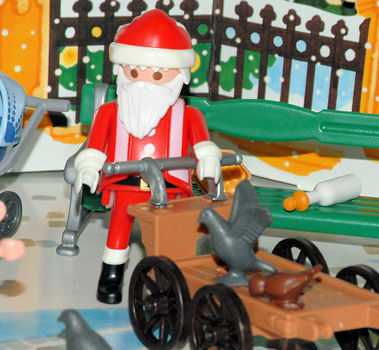 Bert: Santa, I sez, Santa we just came over here to get some grub! And that Kid killed ERNIE!
Santa: He did?
Ernie: I got better.
Bert: He still should be on the "naughty" list. That's all I'm sayin'.
Santa: I know, Bert. Innocent by-standers always suffer when religion comes into play. But fear not, Damien's name is pre-printed at the top of the naughty list.
Damien: I wouldn't have it any other way.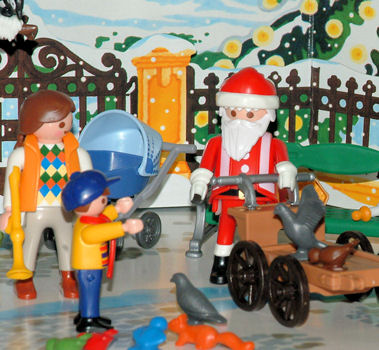 Timmy: SANTA Bring Tim Tim PRESENTS??
Santa: Tim, we're still a couple of days away from Christmas Morning. Besides, didn't you already get the sled I sent?
Ed: SANTA sent the sled? Phil! You lying sack of...
Phil: *whistles innocently*
Santa: But you give me an idea, Tim. I think I know how to provide Sarah with what she needs to make her choice.
Click here to go to the next day!
---
---
Portions of this site make extensive use of Macromedia Flash.
If you're not seeing anything above the line you may need the free Flash Player. Get it here.

This site displayed with 100% post-consumer recycled electrons.

LEGO® is a trademark of the LEGO Group, which does not sponsor, authorize or endorse this web site.
Please be sure to visit the REAL LEGO homepage at http://www.LEGO.com.

All Content ©1986-2008-through the End of Time by Christopher Doyle
RSS Feed:

| Bookmark at

Del.icio.us | Read updates on your

Livejournal Friendslist