---
Playmobil Advent Calendar 2006- Day 24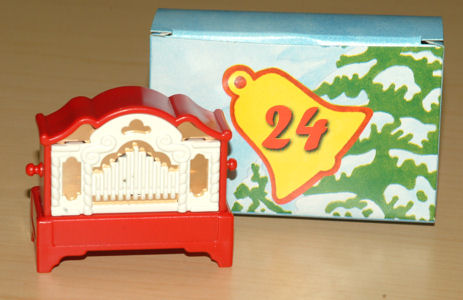 Day 24 of the Playmobil Advent Calendar. The end of the line. The final box. Yesterday we saw Saint Nick show up early. What could possibly top the Big Man himself?
Well, how about a toy that actually plays some Christmas Music?
Yes, Playmobil redeemed themselves by saving the "Big Toy" for the final box. This music box plays snippets of three classic Christmas Songs. Not a bad way to wait for the real toy haul on Christmas Morning...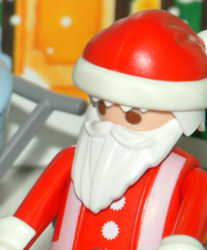 Santa: Sarah, I see you have an early gift as well. Do you know what it symbolizes?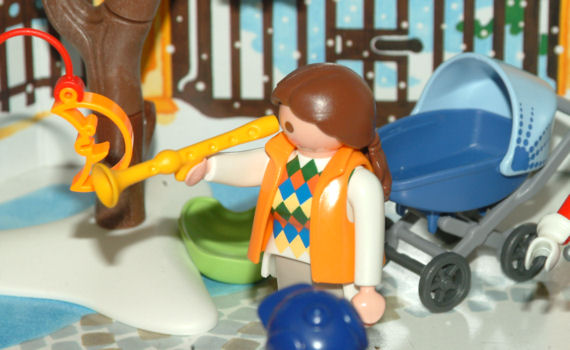 Sarah: This flute? The Angel called it an "instrument of fate."
Santa: ....And?
Sarah: And I have nothing to go on past that.
Angel: Oh, come on. That's a great hint.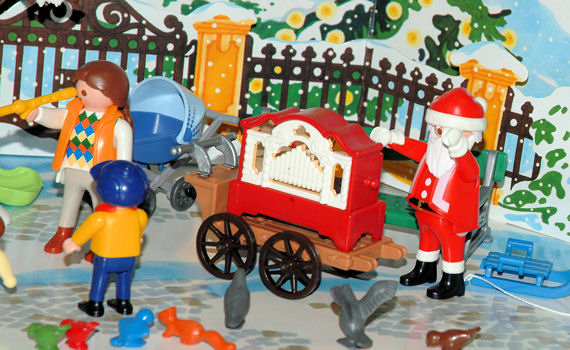 Sarah: Bull! It's just another in a long series of bad puns and double meanings. If it were a hint, there'd be some sort of logic behind it!
Angel: *sputter* Look - what do you do with a flute?
Santa: *cough*
Sarah: Well, this one time, at band camp...
Angel: DON'T. Just don't.
Santa: Um. HEY! LOOK OVER HERE!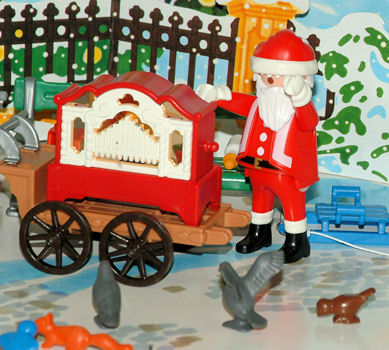 Santa: Behold! it's an Early Christmas Miracle! Can I work the Magic or can't I? HO HO HO!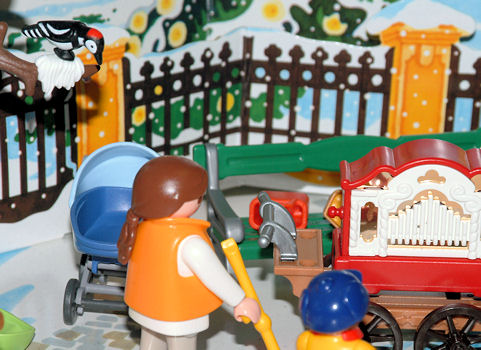 Timmy: MUSIC BOX!
Bernie: It better not have any downloaded MP3s on it, Santa. The RCAA wouldn't hesitate to sue even you.
Santa: Fear not, good Bernie. This music box plays only Public Domain songs.
Sarah: It's nice and shiny, that's for sure.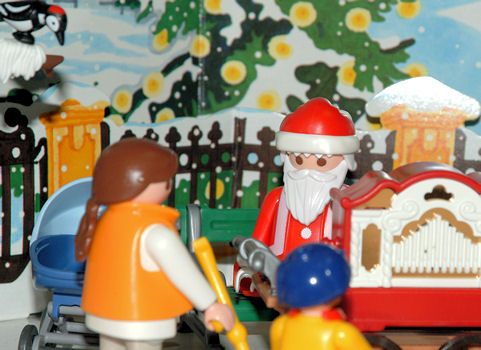 Sarah: But...a miniature pipe organ? I see the music tie-in with the flute, but...how is this supposed to help me decide?
Santa: You're missing the point here. These are instruments. A means to an end. These are tools that will help you decide.
Sarah: I don't mean to be stupid, Santa. I really don't. I'm obviously missing out on something key. Can you just spell it out for me?
Santa: There are only three words left to say, Sarah. Three words that will reveal the nature of the contest to claim your soul. And those three words are: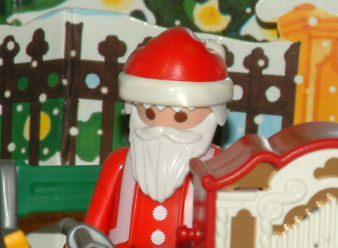 Funky.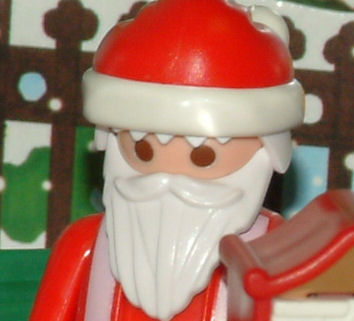 Dance.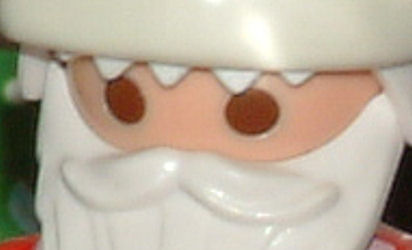 Contest.
Click here to go to the exciting Bonus Christmas Day Episode!
---
---
Portions of this site make extensive use of Macromedia Flash.
If you're not seeing anything above the line you may need the free Flash Player. Get it here.

This site displayed with 100% post-consumer recycled electrons.

LEGO® is a trademark of the LEGO Group, which does not sponsor, authorize or endorse this web site.
Please be sure to visit the REAL LEGO homepage at http://www.LEGO.com.

All Content ©1986-2008-through the End of Time by Christopher Doyle
RSS Feed:

| Bookmark at

Del.icio.us | Read updates on your

Livejournal Friendslist