---
Sicko Santa - Day 10
"Cuttlefish - that's like Squid, right?"
or
"Squid: Round Two"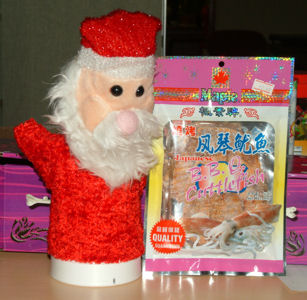 The next challenge for the Elves again came from Elf I's trip to the Asian market. Although the "Prepared Squid" from Challenge Seven was met with much love from the majority of Elves, today's challenge would leave most with...well...a bad taste in their mouths.
Enter: MAPLE (I think that was just the brand name) B.B.Q. Cuttlefish.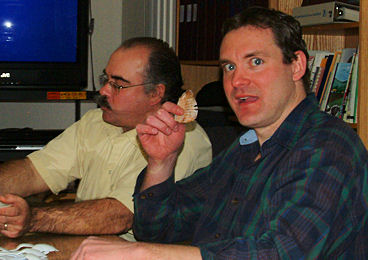 The Elves could see from the exterior that the bag was filled with about ten flat, disk shaped items. Nothing, however, could have prepared them for the smell waiting when Sicko Santa broke the seal. The bag was waved in front of Elf L, who, as you may recall, dumped the Prepared Squid challenge directly into her salad without a second thought. This time, however, she recoiled in horror.
"Oh, no. We're supposed to eat THAT?"
Yes. Yes, they were.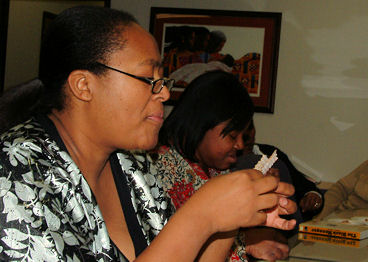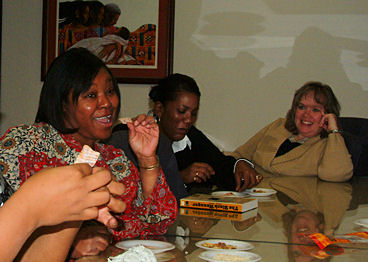 And eat the cuttlefish they did. Elf L was disappointed by the texture. The normally cheerful Elf R was disappointed by the whole experience. Elf Y shared her serving with the visiting Elf J, and both were glad for the smaller portion.
The bag proclaimed these were "QUALITY!" What "quality" they had beyond "disgusting" was beyond our ken.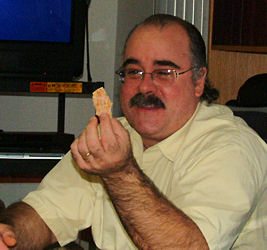 Filled with horror and laughter, Elf K exclaims: "These are GROSS! "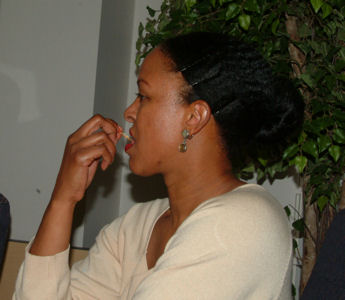 The BBQ Cuttlefish almost caused the first scandal for the Sicko Santa program. Although responsible for their purchase, Elf I tried her best to not eat ANY of the challenge. She hid her plate. She LIED about having finished it. Then, when the rest of the group were ready to pummel her for bringing food she wouldn't eat herself, she broke off the tiniest portion of her disc, touched it to her tongue and declared she was done. "I tasted it. It was nasty. That's good enough."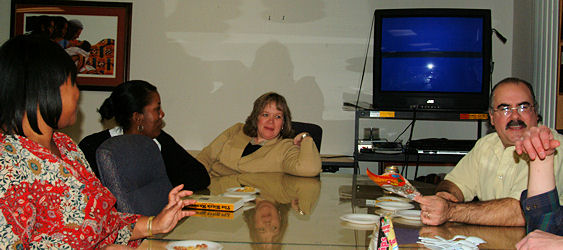 Elf I's reaction pretty much summed it up for everyone. As seen in the final shot above, even Elf K's iron taste-buds were left with a sense of disgust and revulsion. Although, as Elf K did point out, "these might be okay with beer. A lot of beer."
Overall Elf Evaluation:
EEEEEEEEEW.
Click to move on to the next challenge!
---
---
Portions of this site make extensive use of Macromedia Flash.
If you're not seeing anything above the line you may need the free Flash Player. Get it here.

This site displayed with 100% post-consumer recycled electrons.

LEGO® is a trademark of the LEGO Group, which does not sponsor, authorize or endorse this web site.
Please be sure to visit the REAL LEGO homepage at http://www.LEGO.com.

All Content ©1986-2009-through the End of Time by Christopher Doyle
|
| Read updates on your

Livejournal Friendslist