---
Sicko Santa - Day 15
"Jones Soda - Round Two: Sugar Plum Soda "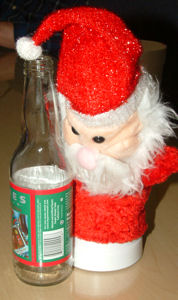 You'll have to forgive the empty bottle of soda in the Santa picture at left - it seems Sicko Santa forgot to take a "before" picture today.
Today's Challenge was another entry from Elf L - and another flavor of Jones Soda. As the bottle came out of the coffin, Elf I was, naturally, the first to exclaim "Oh, please, don't let it be something gross..."
The flavor of the day was "Sugar Plum Soda" - once again the Elves had dodged a bottle from the dreaded Holiday Pack. Sugar Plum was another "additional holiday flavor" like the Candy Cane bottle the Elves had sampled back on Day 12.
With many of the Elves out on business trips and vacation, a single bottle of Soda was easily shared amongst the Elves. No one expected to be coming back for seconds.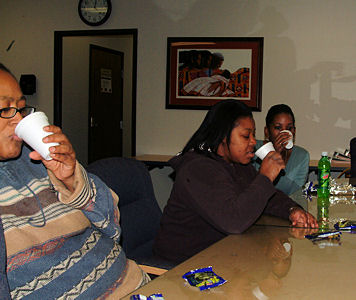 Elf L was the first to react: "It tastes like carbonated Gatorade." When asked to clarify, she confirmed that this was not a good thing for anything to taste like.
Elf R likened the taste to "dish detergent" and gave the soda a firm "Thumbs Down".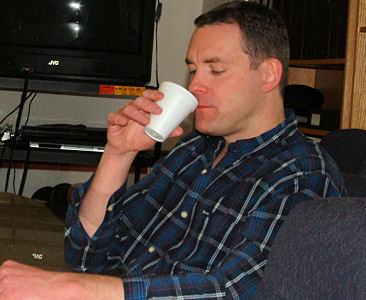 Elf M tried valiantly to describe the taste, but could only come up with "water mixed with ....something." When asked to elaborate his only comment was "Candy Cane soda was better than this."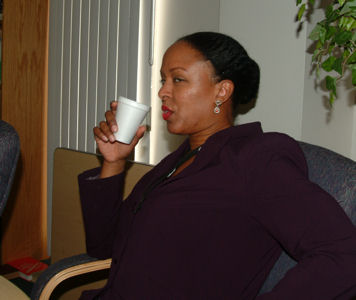 Elf I was much more succinct in her review: "This is not good."
It was only after letting the medicinal aftertaste settle that the overall flavor was recognized:
Overall Elf Evaluation:
If you love Children's Dimeatapp, you'll love this.
Click to move on to the next challenge!
---
---
Portions of this site make extensive use of Macromedia Flash.
If you're not seeing anything above the line you may need the free Flash Player. Get it here.

This site displayed with 100% post-consumer recycled electrons.

LEGO® is a trademark of the LEGO Group, which does not sponsor, authorize or endorse this web site.
Please be sure to visit the REAL LEGO homepage at http://www.LEGO.com.

All Content ©1986-2009-through the End of Time by Christopher Doyle
|
| Read updates on your

Livejournal Friendslist