---
Sicko Santa - Day 22
Halvah. Whatever that is.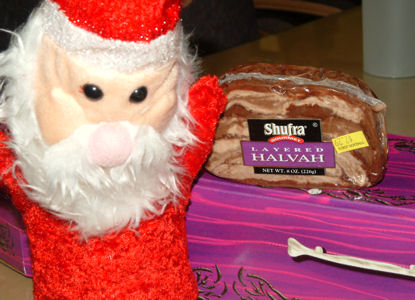 Elf M's second exploration of cultural items continues with this challenge - Layered Halvah.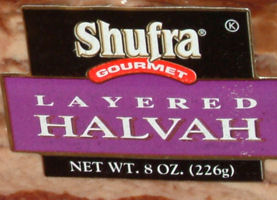 Wiki again gives us a starting point to learn about this challenge; apparently an east Mediterranean region delicacy. What Elf M procured for the group was a Tahani style Halvah - a drier, more crumbly product. This was an unexpected break for the Elves as the other version of halvah, Semolina, is described as being "more gelatinous and translucent". The elves were still dealing with nightmares from the gelatinous Head Cheese from Meats of Evil.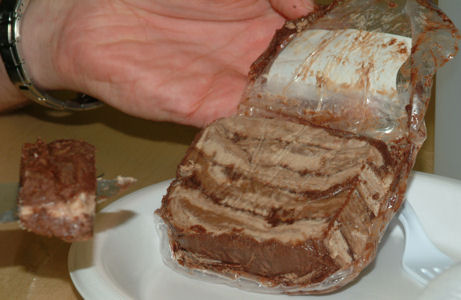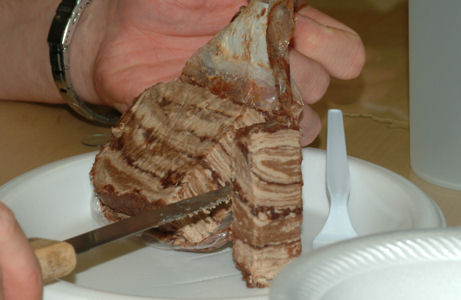 The smell of chocolate was heavy in the air as the halvah was sliced up and passed out.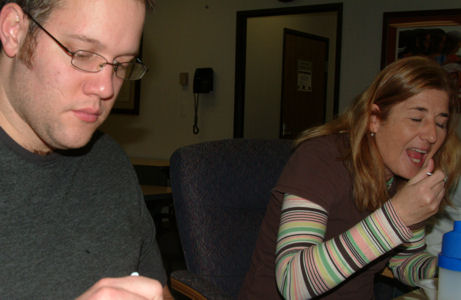 Elves A and J2 were happy to dig into the sweet confection.
Elf A: "It's a little dry - kind of like eating raw sugar."
Elf J2: "It's tasty, though!"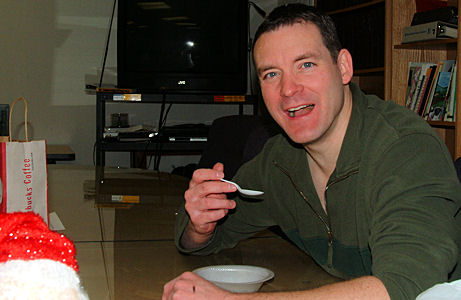 Elf M (sorry about the goofy picture, M) came up with a solid comparison: "It's like eating those sugar-wafer cookies, only more dense. Mix this with the goat cheese and you'd have an awesome cheesecake."
Elf A: "I'll second that - it's good by itself, but if it were creamier it's be great."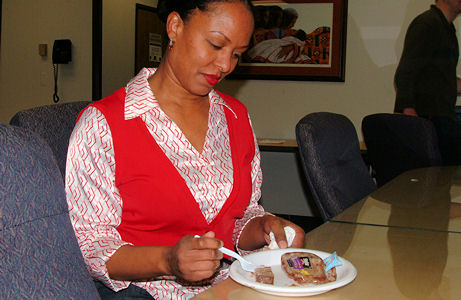 The dubious Elf I was willing to give Halvah a try - the chocolate goodness won her over.
Elf I: Not bad!
Overall Elf Evaluation:
Kind of granular/crunchy - but good. I'd serve this at a party with no worries.
Click to move on to the next challenge!
---
---
Portions of this site make extensive use of Macromedia Flash.
If you're not seeing anything above the line you may need the free Flash Player. Get it here.

This site displayed with 100% post-consumer recycled electrons.

LEGO® is a trademark of the LEGO Group, which does not sponsor, authorize or endorse this web site.
Please be sure to visit the REAL LEGO homepage at http://www.LEGO.com.

All Content ©1986-2009-through the End of Time by Christopher Doyle
|
| Read updates on your

Livejournal Friendslist