Toys R Us 2008 Preview

I know I still owe you guys reviews of the 2008 Exo-Force and Racers sets I picked up a couple of weeks back, but I thought those of you in the US might want to know that another wave of goodies is due to hit the shelves tomorrow. Check out this screen-cap from their on-line copy of tomorrow's sale advertisement: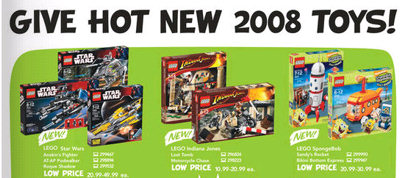 Those are the new Star Was, Indiana Jones, and Sponge Bob sets. I know where a chunk of my LEGO budget is getting blown tomorrow...I hope I can still find that $10 off a $100 purchase coupon they mailed me...
Labels: Geeking, General Info, LEGO