Advent Madness: CITY Day 1

Advent Madness
Day One
CITY
(Open the Doors
Here
)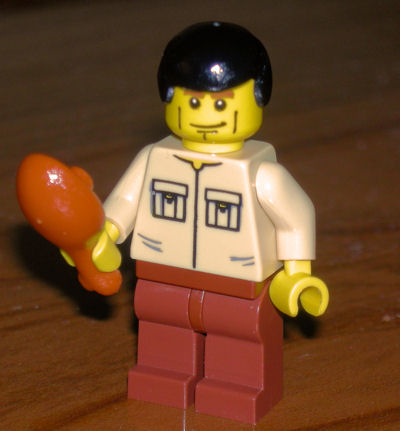 Day 1 - Man with Turkey Leg
Here we go again...once more LEGO has decided to spotlight their CITY theme with an Advent Calendar. I can't say I was overly excited to plunk down the cash for it. (I was much more
geeked
about the non-US release of a Castle Themed Advent) 
Opening the first door I knew I'd find a mini-figure; would it have any holiday theme this year? 
Shockingly, it appears so! Despite the fact that my local shopping centers started putting up their Christmas decorations in late October, for
me
the Christmas season officially starts right after Thanksgiving.  And this little figure is still munching on leftovers. 
Sure, it's a thin tie to the holidays, but I've learned to take what I can get from these CITY advents. 
Anyway, the figure isn't anything special - a standard torso, face, hairpiece and somewhat-hard-to-find brown legs. The Turkey leg fits into the figure's hand, but don't jostle it too much or it'll pop out and shoot across the room. 
I guess
that'd
be an "action feature". 
Yeah, I'm reaching. It's only day one and already I'm burnt out on the CITY theme. Maybe things will be brighter tomorrow.
Labels: Advent Madness, CITY