Advent Madness: CITY Day 11

Advent Madness
Day Eleven
CITY
(Open the Doors
Here
)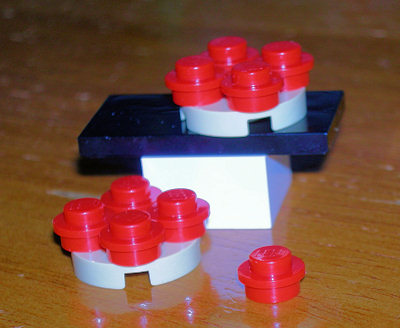 Ninja Tarts with Extra Tartlet
The Cunning Ninja-Cook from Day Ten has prepared some deliciously deadly treats. Sure, they may look like nothing more than four red 1x1 dots on a tan disc - but they're really a killing-cuisine, a
tart-of-death
! Toss one of these at your foe and watch them crumble like a cookie!
At least, that's how I'm choosing to see today's items. It sure sounds like more fun than "a table with two pies and an extra red dot."
In previous CITY Advents, the Chef was cooking up some distinctly non-holiday Pizzas. It's nice to see LEGO at least making a token effort to fit this sub-theme into the larger Christmas mold - even if you have to guess exactly what it is the Chef is making.
My suggestion? Next year when the Chef-Theme rolls around again, have him making cookies. Put a sticker on a 2x2 tile if you have to, but give him some easily identifiable themed items. It probably won't happen, though. My guess is next year we'll see him baking the french-bread piece that's been around for years.
Labels: Advent Madness, CITY