Juvinile Humor is the Breast Kind of Humor
on
December 4, 2013
at
1:23 am
No, I don't think Twin-Pod Cloud Car is a hidden boob joke in Star Wars.
I think it's an obvious boob joke in Star Wars.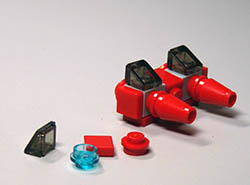 As to the model – although it's recognizable, it's really not that great of a model. I don't know why LEGO decided to use grey bricks for the pods – and there are much better pieces you could use to make the front end than those cones. (I'm thinking of this part in particular.)
But, eh, at least it's from the movies. The good movies.