Today's Prize
Traffic Light w/ Clock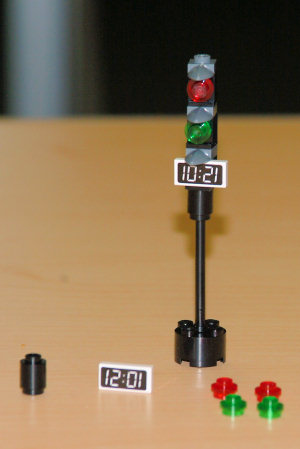 On the Third Day of Trains, we get this little gem...what appears to be a traffic light with a clock on it. Now, I don't spend a lot of time hanging around train yards so I have no idea if this is actually train related or not. It'd make sense on a downtown street corner, though. Eh. Whatever.
Quite a few extra bits today, too. A second clock tile (showing the awesome power of turning it upside down to reveal a second time), and extra 1x1 round brick, and some festive dots in the colors of the season. (Yes, I'm still trying to find a holiday tie-in for this advent calendar.)
I hope the theory of "three day themes" continues - that way we'll get another mini-figure tomorrow starting off a new theme. Maybe it'll be an elf. But I'm not holding my breath.
Anyway, back to the story...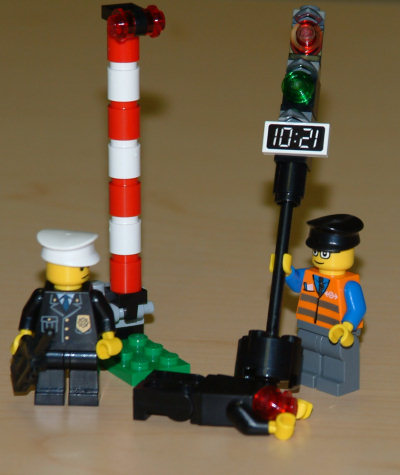 T: Well, the Big Gun told me nothing new. Maybe I'll try this giant rectal thermometer.
Officer Grumpypants: Okay, community service plea-bargain or not, I think I've had enough of this.
T: No you haven't.

Meanwhile, Ace the Bathound is checking out the rest of the crime scene.

Jack: Noooooooo! Get away from there!!!!!!

| | |
| --- | --- |
| Total Parts in Set: | 203 |
| Parts in Today's Door: | 18 |
| Parts to Go: | 56 |