Today's Prize
Oil Breaku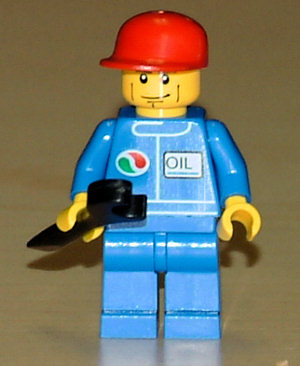 As expected, today's door seems to be starting a new theme in the LEGO Advent Calendar. So far we've had Firemen, Police, Criminals, Construction Workers, and Trainmen - today we get a Mechanic. His name, OIL, is clearly emblazoned on his swanky blue top. Either that, or his ID number is "710" and he pinned the card on so he could read it himself.
Oil comes with a giant wrench. His Mother's maiden name was "Staveyourskullin", by the way.
When we last left the world-o-the-calendar, Jack Hammer was trying to get between Ace the Bathound and the Man Eating Safe (who no one has realized is a threat).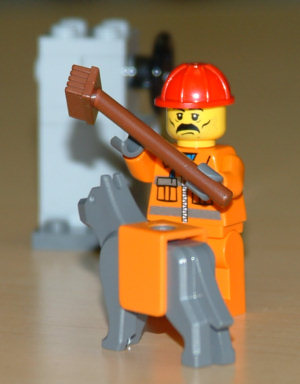 Jack: Get away from there, you mangy mutt! I just finished clearing away another decapitated body! I don't need you marking your territory or nothin'...!
Ace: You...you...what? Good Lord, sir, I am ACE THE BATHOUND. Quite possibly the most intelligent dog in the DC Universe. I do not "need" to mark anything!
Jack: Yeah. Right. I saw what you did to that fire hydrant back from Day Two.
Ace: That...that's different. We have an understanding...
Jack: Sure it is. Now back up, or taste my broom.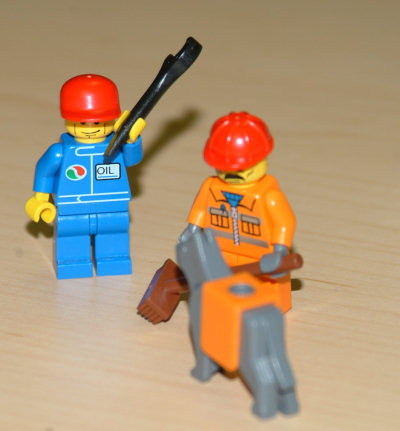 Oil: Hey guys. Say, Ace, wanna play fetch?
Ace: I hate all of you. So very much.
| | |
| --- | --- |
| Total Parts in Set: | 203 |
| Parts in Today's Door: | 5 |
| Parts to Go: | 51 |