Today's Prize
A Drill Press
(Or maybe a Soft-Serve Ice Cream Machine)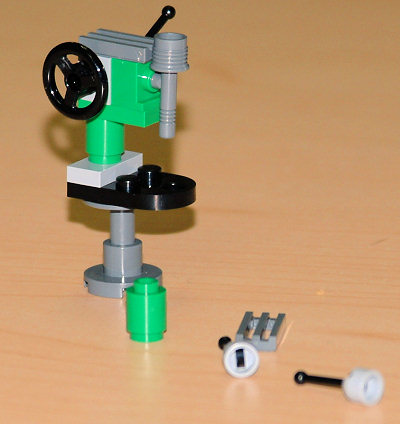 Continuing the "Mechanic" theme, today's door hid this little bit of shop-worn equipment - a tiny LEGO Drill Press.
Well, "Drill Press" is what LEGO would like to have us view this item as, anyway. This same mini-model has shown up in catalogs as part of larger Train Maintenance buildings, and clearly labeled as a press. But...you know what...it sort of looks like a soft serve ice-cream machine. Neither is really a "holiday" item, though.
In addition to the main model there were also a few "extra" bits behind the door. Maybe I should go back and make a list of all these extras - maybe *they* build something Christmas-y.
Anyway, let's see how our friends react to the latest addition to their little world....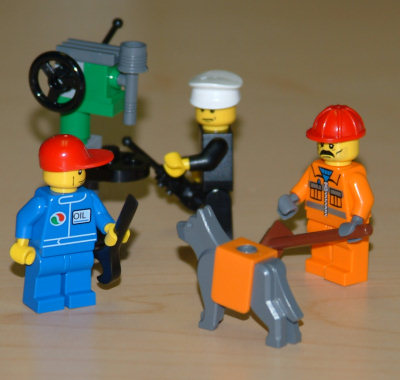 Ace: Where the heck did that thing come from?
Officer Grumpypants: This? I'm sure it was here all the time, but we were just overlooking it.
Oil: Hey! My mail-order CSI investigation kit! The postman must have dropped it off! Man, I had to save 10,000 boxtops from "Grissom-Grahms" to get that. Six-to-eight weeks delivery my blue butt. It was more like four months...
Jack: I didn't see any postman.
Oil: Hey you never know - there are still three mini-figures to go according to the box.
Ace: ....."Box"?
Officer Grumpypants: Never mind him, Ace, he's just trying to be "clever" by breaking the fourth wall.
Ace: I think I'm going to bite him. Hard.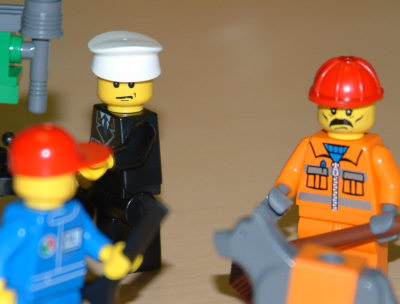 Officer Grumpypants: No more violence, Ace. The last time you attacked someone they ended up decapitated.
Ace: That's hardly fair. That happened later. And off-camera, to boot.
Officer Grumpypants: Don't you start with that fourth-wall nonsense.
Ace: May I just restate that I hate you all. So very much.
| | |
| --- | --- |
| Total Parts in Set: | 203 |
| Parts in Today's Door: | 15 |
| Parts to Go: | 36 |