Today's Prize
Oil Drum and Cart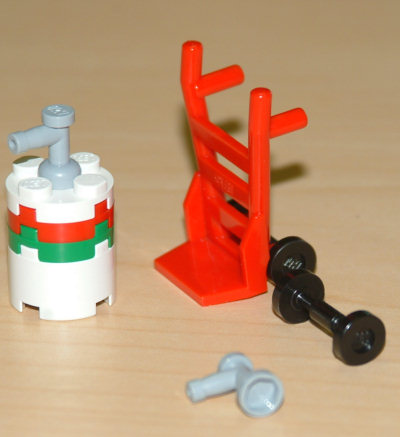 Okay, I'm starting to seriously worry that LEGO has run out of ideas for this Advent Calendar. Yesterday's "Drill Press" was actually not a bad bit of miniaturization. But today? Today we get a repeat of the hand-cart from Day 8 and a giant tub of lube. At least they gave us an extra axle if the weight of the lube breaks the cart - and a second nozzle for sanitary purposes.
I'm really worried about what this particular batch of mini-figues is going to do with about $800 worth of lube...
...but first: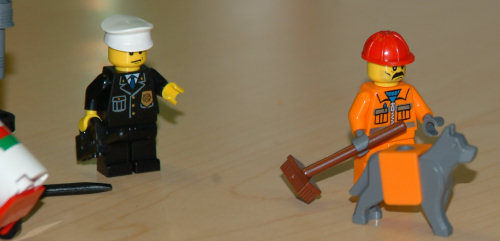 Officer Grumpypants: Jack, Ace, I have a special mission for you. Go round up the decapitated bodies that Jack cleaned up. I think if we compare them we can finally get this "mystery" underway.
Ace: I love mysteries.
Jack: Yeah, yeah, whatever. I clean all this stuff up, and now you want o drag it all back out? *mutter mutter*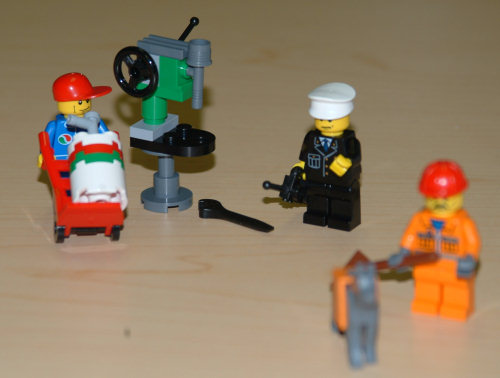 Oil: Duuuuuuudes! Look what I have!
Officer Grumpypants: That's not a giant barrel of lube, is it?
Oil: Um. Maybe.
Officer Grumpypants: And just what do you intend to do with that?
Oil: Grease up the Grissom-Grahms CSI Investigation kit. The directions said I had to.
Officer Grumpypants: Directions? I thought it came fully assembled.
Oil: Um. Well....
Officer Grumpypants: You brought that oil for lewd reasons, didn't you? Be honest.
Oil: ....
Officer Grumpypants: Admit it!
Oil: ....yes. YES! It's true! I brought this drum of oil to try and tempt you into lewd behavior!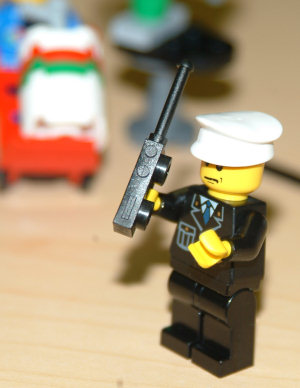 Officer Grumpypants: No time for love, Dr. Jones. What little plot we had is starting to fall apart faster than....well, it's darn fast. Let me see if I can get this radio to work again...
Oil: You know, you have the most lovely eyes...
Officer Grumpypants: Quiet, you.
| | |
| --- | --- |
| Total Parts in Set: | 203 |
| Parts in Today's Door: | 9 |
| Parts to Go: | 27 |