Today's Prize
Stove? Buffet Line? Table?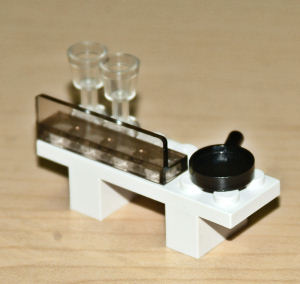 Well, we knew we'd be deep in "Pizza Guy" territory for the last 3-day theme in this years Advent Calendar. But today's door is a bit of a mystery. There's a little white table - that's easy to identify. Or is it? The frying pan accessory - is it meant to be just placed on the table? Or is the table actually a stove? Does the presence of the sneeze-guard mean this is really just a portion of a larger buffet table? And what's up with the wine glasses? Will tomorrow's door hold a soft-drink fountain?
Speaking of mysteries, I promised a bit of resolution to the mystery of the Man-Eating-Safe-Mecha today, didn't I? Better get on with that.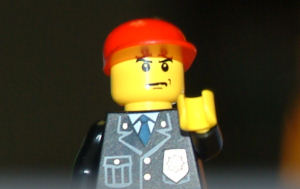 Officer Grumpypants: Just a moment. WE NEVER ORDERED THAT PIZZA! We just talked about it!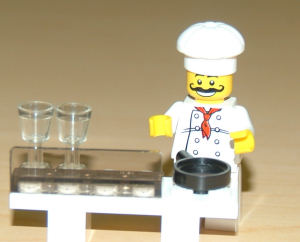 Pizza Guy: Oh, no, I was just given this address to make a delivery. Everything was pre-paid by credit card, so it doesn't matter if you ordered or not.
Oil: Shouldn't you have some sort of stereotypical Mario/Italian accent?
Pizza Guy: Probably, but no. No, I don't. I can do a pretty good Swedish Chef Impersonation if you'd like though. BORK BORK BORK!
Oil: ....no, that's okay. Do you happen to know who it was that placed the order?
Pizza Guy: Sure. It was...
Man-Eating-Safe-Mecha: (Interrupting) NONE OF YOUR BUSINESS.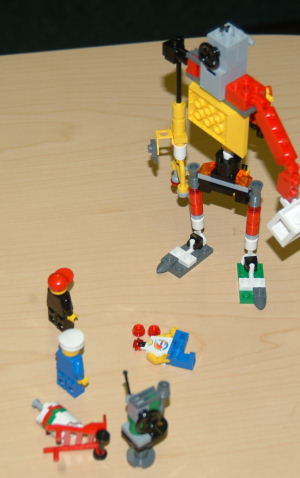 Officer Grumpypants: Sure it is. You're going to kill us, right? That does pretty much make things our business.
Man-Eating-Safe-Mecha: WHY DO YOU ASSUME THE PIZZA AND YOUR DEATH ARE RELATED?
Officer Grumpypants: I'm holding on to the slim hope that this storyline is tied together by some sort of plot. The Pizza delivery would make no sense otherwise.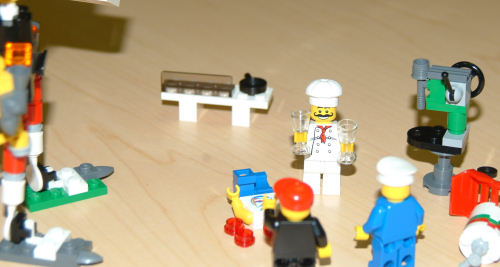 Pizza Guy: Well, you got me there. It would really suck if the only reason I showed up was because I happened to be hiding behind door #21.
Oil: So what was the reason you showed up?
Pizza Guy: To deliver a pizza!
Oil: ...and this relates to the giant robot how? Wait....let me guess. You're the secret mastermind who has been lurking behind the scenes all this time! You've been quietly gathering the Advent toys as we forgot about them - using your secret Chef-Fu to turn them into this monster! And you did it all for the love of your sister, who should have been in the Advent Calendar as a token female mini-figure, but who was left out by the heartless designers in LEGO Corporate!
Pizza Guy: Wow! That's a great guess! But, no, I'm just the pizza guy.
Officer Grumpypants: Look, if we're going to get killed, the Scooby-Doo factor promises that someone has to explain all this to us first.
Man-Eating-Safe-Mecha: I GUESS THAT'S MY CUE.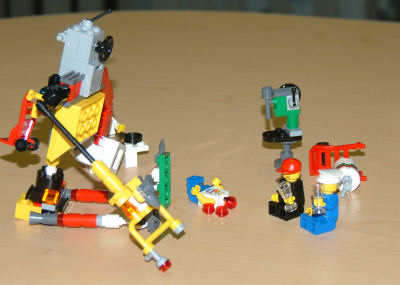 Man-Eating-Safe-Mecha: MY CREATOR DID INDEED ASSEMBLE ME FROM THE DISCARDED ADVENT GIFTS. HE DID SO FOR HE IS A BEING OF PUREST EVIL INTENT. TURNING INNOCENT GIFTS INTO A HOMICIDAL ROBOT APPEALED TO HIM ON SEVERAL LEVELS.
Officer Grumpypants: So is the "creator" someone we've already met?
Man-Eating-Safe-Mecha: YES. IT IS AN ESTABLISHED PLOT DEVICE TO INTRODUCE A CHARACTER, FORGET ABOUT HIM, AND THEN BRING HIM BACK AS THE VILLIAN.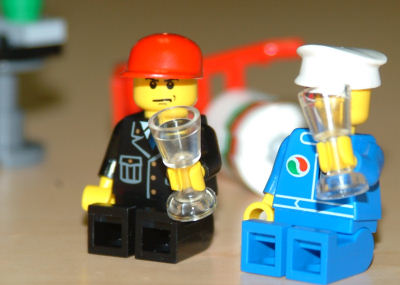 Officer Grumpypants: Well, it can't be the Axe-wielding Maniac or the thief - we saw both of their bodies.
Oil: They could be ZOMBIES!
Officer Grumpypants: Maybe if this was a Halloween countdown. No, that just leaves Jack and Ace. And that Trevor guy. What ever happened to him?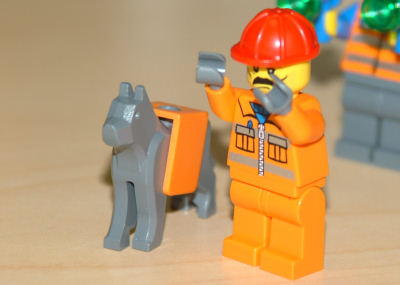 Jack: Funny you should mention Trevor.
Ace: Hi, guys.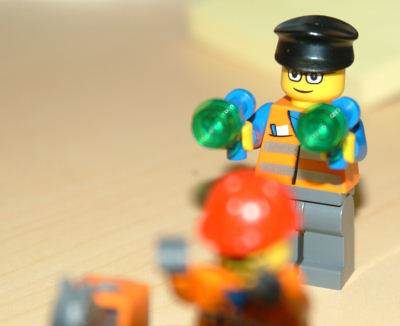 Trevor: Yes, hello everyone. I'm glad you've made yourselves comfortable. Because it's nearly time to die.
TOMORROW! Trevor's Terrible Secret Backstory! PLUS! The reason the pizza was delivered! No, really!
| | |
| --- | --- |
| Total Parts in Set: | 203 |
| Parts in Today's Door: | 7 |
| Parts to Go: | -5 |
-5 Parts? What the heck? Well, since LEGO has been kind enough to include extra pieces behind some of the doors, we're now beyond the listed part-count for the set! Every brick from here on out is pure bonus material!